Take the guesswork out of green home remodeling & building. Make it GreenStar.
Formerly overseen by Minnesota GreenStar (MNGS), GreenStar is being run by the GreenHome institute to bring a robust above code renovation, addition & new construction program to the market. This program ensures healthier, more durable homes that save energy and water thus reducing the cost of living and improving comfort. GreenStar is based on the 5 pillars of green; Energy, Health, Water, Materials and Place and how these are affected systematically by the 7 components of a home including, Outdoor/Site, Building Envelope Systems, Mechanicals, Electrical/ Lighting, Plumbing Systems and Fixtures, Finish Materials and Coatings and Waste Management.
Whether you're remodeling a room, adding addition or building a new home....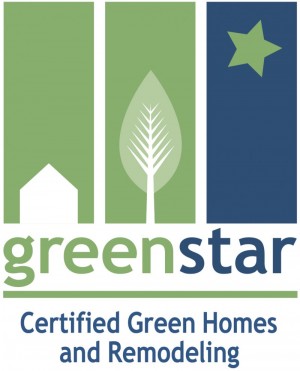 Take the guesswork out of doing the right thing: make it greenstar.
Why GreenStar Homes? 
The free online checklist and manual puts you in the drivers seat and can help you easily generate green scopes of work, bids, specifications and accountability forms for general contractors, designers and all sub-contractors such as insulators, HVAC, plumbing, framing, landscaping and others based on your needs.
3rd party quality assurance inspections 
Trust but verify, greenstar raters and quality assurance reviewers help ensure what was stated to built is actually in the home to help ensure performance and improve home value.
Why GreenStar vs other labels? 
Unlike other programs GreenStar is a nonpolitical market driven voluntary program that is not built into legislative mandates and is designed to educate the market to make homes BETTER. Greenstar is continuously improved based on the changing nature of sound building science and works closely with our users to ensure the program is relevant and viable.
GreenStar Homes Full Program Manual
Find qualified GreenStar Rater or Professional
Go to our find a pro page to find a professional in your area!
The 5 Pillars of Green
The 5 Pillars of Green
Energy

Energy is the starting point to green home building and remodeling.  Reducing utility bill costs, energy use and improving comfort are the cornerstone to a green certified home. Through simple yet advanced insulation and air sealing techniques a majority of a homes energy is reduced. Taking advantage of the sun when possible and keep out during the summer can be a no cost way to reduce energy use. High efficiency and right sized mechnicals, along with energy star appliances and LED lighting are all ways to reduce energy demand.
Health

Indoor air plays a major role in overall health and lifestyle. This home contains fewer products that off-gas harmful chemicals. It also incorporates a ventilation  and filtration system that reduce airborne contaminants, diminishing the chances of allergies, asthma, and other more serious health risks. Health can also be impacted by other areas besides indoor air quality. Clean water with reduced toxins but healthy minerals is important for health. Accessibility is a growing concern and having easy access to a home a need to for people of all ages and physical situations. Electromagnetic frequencies coming into our home or those that are present in appliances, lighting and wiring also give concern for harming sleeping partners and causing other alignments such as cancer.
Place 

Development Practices used during the construction of this home diminish land degradation and deforestation, promote healthy landscapes, reduce waste, and prevent potential erosion associated with lot development during the construction and remodel process. Having a sense of place and being located near local resources, bikes lanes, public transportation can also be a benefit of a green home. More often food is being grown as a way to offset the costs and environmental issues with out current food system.
Materials

Home construction, renovation projects and upkeep depend heavily on natural resources. The use of locally manufactured products, recycled material and product re use or refurbishment is encouraged, because they reduce environmental impact and support the local economy. Using durable materials and following good practices to ensure the home is built well to keep the home dry helps the environment by reducing the amount of future materials needed to maintain the home.
Water

A green home uses water-wise technologies that help lower utility bills and reduce the total amount of water needed to maintain a comfortable lifestyle. Water shortages are a primary concern in the 21st century, and this home addresses water conservation needs.
Green Home Institute
PO Box 68164
Grand Rapids MI 49516
Tel: (616) 458-6733
Toll Free: (888) 533-3274
Email: info@greenhomeinsitute.org
About Us
The GreenHome Institute, formerly The Alliance for Environmental Sustainability (AES) is a 501(c)3 non-profit with a mission to empower people to make healthier and more sustainable choices in the renovation and construction of the places we live.