Join us as we talk with Bill Mcdonald, Certified Passive House Consultant  of Phoenix Haus about how these panels are designed, manufactured and installed. Bill has been testing this out on an actual pre certified passive house project in MI and we will still current and future predicted results.
Now SIPS are being prefabricated with Cellulose and are performing just as well while relying on local, recycled materials that are just as durable when sealed correctly.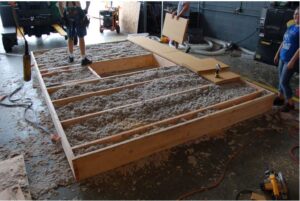 Phoenix Haus is setting out to share with designers, builders, and owners who are in search for an innovative approach to building. Trying to create low energy buildings with a goal of avoiding foam can be difficult, one such method we will discuss is the development of prefabricated cellulose SIPS to achieve goals of efficiency, airtightness and avoid foam when desired. We will discuss how design should be done in 3D, and carried all the way through from the design process to site installation. From resource efficiency to time efficiency, details for accuracy and resulting performance - these elements are married together with our prefabricated approach to building.
Lessons Learned 
1. Understand What is a Passive House
2. Understand a CAD 3D component model
3. Understand what "diffusion open" assemblies are
4. Know where to learn more about air tight but natural pre assembled wall systems
Continuing Education - 1 hour 
State Architect / Builder License.
NARI Green.
PHIUS
Pending: AIA(HSW), BPI, GBCI.