How to Get to Zero Energy Capable Residential Buildings
Net zero energy, Zero net energy, zero energy buildings and zero energy ready are often times different terms meaning different things. Come find out what it truly means to design and build zero energy residential buildings that are capable of achieving zero energy when operated by occupants in a normal matter. This program is designed to give you the basic understanding of what zero energy means and how to communicate effectively. We will review 10 tips and tricks to get there, go over real case studies and discuss energy modeling programs that verify the building's capability.
1. Understand the language and marketing between zero energy claims
2. Know the basic, broad approach to achieving zero energy
3. Articulate new technologies and old technologies being used to achieve low energy
4. Know where to go to get more information to zero energy now.
Continuing Education Units (CEUS)
1 Hour in
GBCI
AIA(HSW)
NAHB CGP
NARI Green
CGHP
AIBD
State contractor or designer license may apply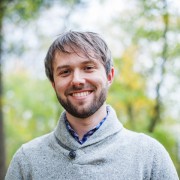 Brett Little, LEED APH, LFA, GHP
Executive Director at the GreenHome Institute since 2010, Brett is a 2014 30 under 30 Home Energy Magazine Entrepreneur award recipient. Brett helps educate people on the basics of residential green building and lives in MI's 1st GreenStar remodel of 1920's existing home. He lives in Beer City USA (Grand Rapids) with his wife and son and sits on the USGBCWM board of directors since 2012.
Download course handout here
Green Home Institute
PO Box 68164
Grand Rapids MI 49516
Tel: (616) 458-6733
Toll Free: (888) 533-3274
Email: info@greenhomeinstitute.org
About Us
The GreenHome Institute, formerly The Alliance for Environmental Sustainability (AES) is a 501(c)3 non-profit with a mission to empower people to make healthier and more sustainable choices in the renovation and construction of the places we live.