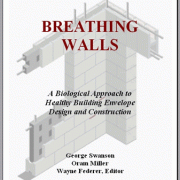 At the heart of the Building Biology philosophy is the time-honored concept of the "breathing wall," that is, all natural, self-regulating, electromagnetically balanced materials that have the capacity to diffuse moisture, air and pollutants. These walls can be made using locally available; all natural materials developed over thousands of years of accumulated building practices.
Contrast to that is the conventional"airtight" sealed building envelope so common now in this country with a suffocating airtight polyethylene vapor barrier. The toxic soup that comprises the majority of building materials used in North American has contributed to the widespread phenomenon of "Sick Building Syndrome."
Including breathable walls ensure improved indoor air quality, superior longevity, better thermal storage qualities, higher r values, improved fire safety, less moisture buildup and superior resistance to mold and mildew are just a few of the added benefits. Not only that but you can reduce materials costs significantly. 
Know the basics of a breathable wall system and how it can improve health
Understand the drawbacks of conventional wall system and how they impact safety
Articulate how natural building materials can improve the welfare of all
Know where to get more resources to implement these strategies on your next project
Continuing Education Units (CEUS)
1 hour in
GBCI
AIA(HSW)
Certified Green Professional (NARI & NAHB)
AIBD
Certified GreenHome Professional (CGHP)
State Architect / Builder License may be applicable
Instructor: George Paul Swanson
George Paul Swanson  received a Bachelor of Science in Industrial Technology from Western
Washington University in June 1975. Since that time he has worked throughout the Pacific Northwest, the Great Plains, and Southeastern United States, designing, building, and managing construction of homes and commercial buildings. In 1981 he published the bestselling Dome Scrapbook culminating his experience of designing and participating in building more than 300 geodesic dome structures in the Pacific Northwest between 1974 and 1981. Over the years Swanson Associates have completed over eighty low-toxic, and fully non-toxic "Breathing" natural building projects in eleven states and several foreign countries.
Since 1975 he has conducted hundreds of seminars across the country and abroad on the benefits of natural building design.
Learn more at http://geoswan.com/
Course Is Free To Watch Below
Course Certificate Cost: $50.00
GHI Members: Free
Green Home Institute
PO Box 68164
Grand Rapids MI 49516
Tel: (616) 458-6733
Toll Free: (888) 533-3274
Email: info@greenhomeinstitute.org
About Us
The GreenHome Institute, formerly The Alliance for Environmental Sustainability (AES) is a 501(c)3 non-profit with a mission to empower people to make healthier and more sustainable choices in the renovation and construction of the places we live.