Find out what six products can be included in homes that are both green and universal design. Professionals will learn about the benefits of universal design and what products can be selected to make life easier and are energy and water efficient. Our speaker uses a wheelchair for mobility and references her own Frank Lloyd Wright inspired Prairie Style home in Columbus, Ohio in this interactive and information-packed session. She in her personal experiences as she illustrates six products in the home that provide ease of living, energy, and water efficiency.
Continuing Education Units (CEUS) 1 hour in

Green Building Certificate Institute (GBCI)
Building Performance Institute (BPI) NonWholeHouse
American Institute of Architects – AIA (HSW) 
Certified Green Professional (NARI & CGP)
Certified GreenHome Professional (CGHP)
AIBD
State Architect / Builder License may be applicable
Lessons Learned
1. Define the terms universal design and visitability. 
2. Recognize six products that include universal design and green building features: flooring, windows, toilets, showerheads/handshowers, doors and landscape pavers. 
3. Be able to compare the cost of products that have both green building and universal design features.
4. Communicate the long term value of universal design and green building features and products to their clients.

Session sponsor:
Geocomfort Systems – Affordable, efficient geothermal handling all HVAC + Hot Water Needs
Instructor
Rosemarie Rossetti, Ph.D. is a powerful, internationally known speaker, consultant, author and president of Rossetti Enterprises Inc.www.RosemarieSpeaks.com She speaks to and consults with builders, remodelers,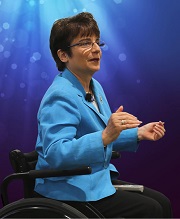 developers, architects, interior designers, Realtors, occupational therapists, and consumers that want to create inspired and livable homes. Her presentations and consulting help people integrate universal design and green building features and products. She and her husband, Mark Leder, led the team that designed and built their home, the nationally-acclaimed Universal Design Living Laboratory, www.udll.com the demonstration home and garden in Columbus, Ohio. This is the top-rated universal design home in North America with ZeroStep Certification, Silver certification on the LEED for Homes program from the U. S. Green Building Council and a Gold rating from the Home Innovations Research Labs, subsidiary of the National Association of Home Builders on the ICC 700-2008 National Green Build Standard.