In a new report, MEEA compared homes that participated in the US Department of Energy (DOE) Energy Code Field Study to HERS rated homes in Kentucky. This research sought to understand key similarities and differences in energy efficient building components, code compliance, construction practices, among other things. This research is likely of interest to professionals working in the residential building industry, building code enforcement and policymaking. A general understanding of residential energy codes and HERS ratings is helpful but is not required.
Continuing Education Units (CEUS) 1 hour in

Green Building Certificate Institute (GBCI)
Building Performance Institute (BPI) NonWholeHouse
American Institute of Architects – AIA (HSW) 
Certified Green Professional (NARI & CGP)
Certified GreenHome Professional (CGHP)
AIBD
State Architect / Builder License may be applicable
Lessons Learned

Gain a basic understanding of the LEED BD+C V4 HERS Rating and US DOE Residential Energy Code Field Study protocol and key measures observed in the field.

Understand the key differences in terms of energy efficiency between a LEED BD+C V4 HERS rated home and a home that participated in the US DOE Residential Energy Code Field Study in Kentucky.
Understand how both sets of homes compare to the Kentucky residential energy code prescriptive and mandatory requirements (2009 IECC).

Learn how this information may be used in the future to help inform construction practices, code development, code compliance, and third party verification like LEED BD+C V4 HERS ratings .
Session sponsor:

Tstud – Save money, stop thermal bridging and reduce energy usage. All in 1.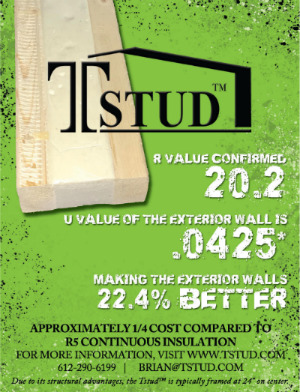 Instructor: Ian Blanding

Ian Blanding is a Building Policy Manager for MEEA's Building Policy Team. In his role, Ian tracks and disseminates new information about energy code policies, develops technical resources and provides assistance to state and municipal governments within the Midwest during the adoption process of the International Energy Conservation Code (IECC).
Prior to joining MEEA, he worked as a policy advisor for a mayoral campaign in Cincinnati, OH, where he helped develop innovative and progressive policies to improve the urban framework. Ian also worked as the Sustainability Coordinator for the City of Grand Haven, MI, where he made strides in improving and promoting municipal sustainability initiatives.
He holds a Master of Community Planning degree from the University of Cincinnati and a B.S. in Environmental Policy and Public Administration from Central Michigan University. Ian is an avid marathon runner and enjoys spending time in nature while backpacking, hiking, and biking.