The Basics of Residential Green (Re)Building
When it comes to building new homes, remodeling, additions or developing multifamily housing, it's important to incorporate green strategies to stay competitive.
 These measures can save your clients money, improve resale value and give you more of a competitive edge in the market. In this 8 part series, we will cover the basics of the five pillars of Green Building: Energy, Health, Water, Materials and Place along with some of the different green certification systems that can help guide your decisions and give you a marketing tool to tell your story.  We will also introduce the concepts of financing and fund green projects and how to further your education or professional credentials to set yourself apart as a better professional.
Integrating sustainability into your practice, whether an individual, small business or major corporation is key to thriving in this market where the green building will be $200 billion industry by 2018.
How to articulate the 5 pillars of green building and holistic construction practices
Know where to get more resources to expand knowledge in each of these areas
Reiterate the benefits of certification standards and labels
How to take the first steps to make your client's projects greener & better
Continuing Education Units (CEUS)
3 Hours In
GBCI
AIA(HSW)
CGP (NARI/NAHB)
AIBD
Certified GreenHome Professional (CGHP)
State contractor or designer license may apply
This course is a mandatory GreenHome Associates Training Course 
Instructor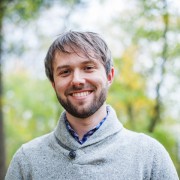 Brett Little, LEED APH, LFA, GHP
Executive Director at the GreenHome Institute since 2010, Brett is a 2014 30 under 30 Home Energy Magazine Entrepreneur award recipient. Brett helps educate people on the basics of residential green building and lives in MI's 1st GreenStar remodel of 1920's existing home. He lives in Beer City USA (Grand Rapids) with his wife and son and sits on the USGBCWM board of directors since 2012.
Certificate Costs $100.00
GHI Members: Free
Course Is Free by scrolling past payment form. Pay to access quiz and take it while you watch the session
Course Certificate Cost: $30.00
GHI Members: Free
Green Home Institute
PO Box 68164
Grand Rapids MI 49516
Tel: (616) 458-6733
Toll Free: (888) 533-3274
Email: info@greenhomeinstitute.org
About Us
The GreenHome Institute, formerly The Alliance for Environmental Sustainability (AES) is a 501(c)3 non-profit with a mission to empower people to make healthier and more sustainable choices in the renovation and construction of the places we live.