Learn how to apply the LEED for Homes rating system to a real project by walking through the phases of a typical project and the key decisions that project teams must make, including key stakeholder considerations. Engage in interactive, case-based activities that enable you to work hands-on with LEED implementation strategies and rating system tools.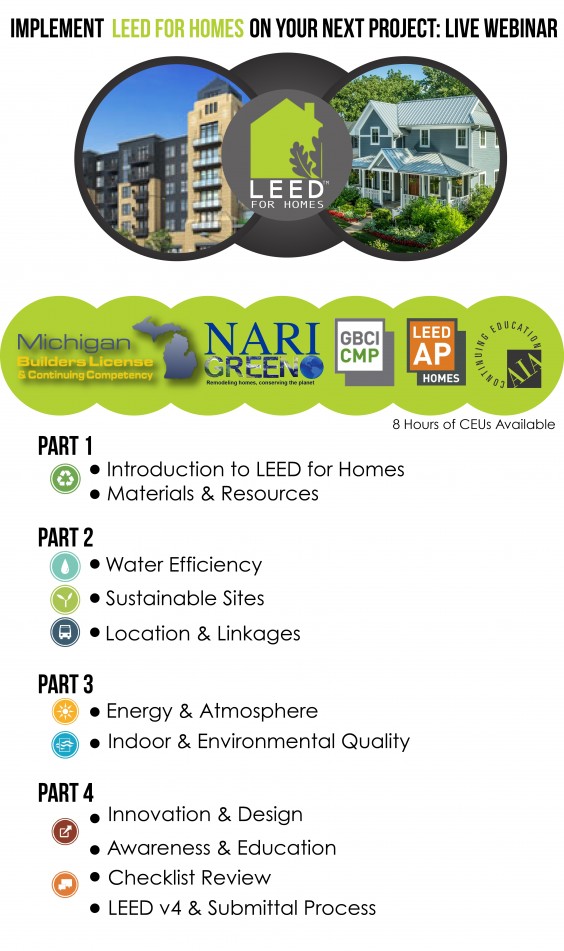 Part 1
Introduction to LEED for Homes & Green Home Certifications.
Quick Review – LEED V4
LEED for Homes Provider & Green Rater – What and who are they?
Understanding the Materials Resource (MR) of the LEED for Homes 2008
Part 2
Location & Linkages (LL)
Sustainable Sites (SS)
Water Efficiency (WE)
Part 3
Energy & Atmosphere (EA)
Indoor Environmental Quality (IEQ)
Part 4
Innovation and Design (ID)
Awareness & Education (AE)
LEED for Homes Version 4 Introduction
LEED Checklist Navigation
LEED registration and Submittal Process How to
By the end of this online education series, you will be able to:
* Identify the types of projects which are eligible for certification
* Recognize the roles and responsibilities of key stakeholders in the LEED certification process.
* Recognize goals, intents, and requirements of prerequisites and key credits, and strategies to meet them
* Identify synergies between LEED credits
* Understand how to navigate the LEED checklist and online Submittals Portal
Course Outcomes
* Pre construction Plan Draft Checklist Completed
* Knowledge of LEED for Homes Process
* Meet Requirements for LEED AP Homes Credential
* Know Steps to take your Exam
Homework
- Submit a checklist with the Materials & Resources section completed*
* Either on Box.com or email to info@allianceES.org
Continuing Education: 8 CEUS for the entire series
8 GBCI
8 AIA/CES (LU/HSW)
8 NARI Green
8 Local & State Contractor & Architect Licence may be applicable (MI confirmed)
Other Courses
Instructors & Developers
- Jason La Fleur, LEED APH, Green Rater, PHIUS+ Rater, & Educational Director
- Brett Little, LFA, LEED APH & Executive Director
/ GreenStar Alliance Members Get 20% off!

Local Partner Org Members get 10% Discounts 
USGBC
AIA
HBA
NARI
AIBD

Passive House Alliance 

GreenExpo Subscribers 
When?
July 16, 23, 30 and Aug 6 - 4:00 pm to 6pm ET each Wednesday
Sign up now! http://greenhomeinstitute.org/education-and-events/implementing-leed-for-homes-on-your-next-project/