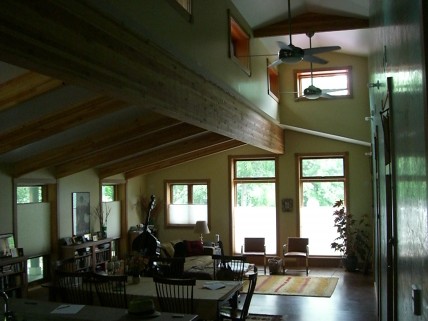 The Gulyas residence in Bloomington, Indiana was one of the first homes in Indiana to receive LEED for Homes Platinum certification.  Through the use of passive house techniques and additional sustainable design strategies this project easily met and surpassed the criteria for LEED.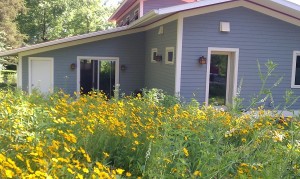 A home energy metric measuring energy per square foot calculation and spreadsheet was created by Allison Bailes III, PhD, to help effectively measure electric and gas usage in a house.  used this spreadsheet on this project to help get an idea of how efficient the Gulyas residence is.  The number of kilowatt hours per year for electric (no gas is used) at the Gulyas residence is 6,675, which averages to 556.25 kilowatt hours per month.  The cost per year in 2011 was $960.07, averaging to $80.011 per month for all energy heating, cooling & electricity.  The spreadsheet also contains a helpful key which describes the efficiency of the house in terms of kilowatt hour per square foot per year.  Anything less than 5 is considered "super-efficient" and anything above 20 is considered an "energy hog."  The Gulyas residence uses 4 kilowatt hours per square foot per year, describing it as super-efficient.  Click here for Gulyas' actual electric bill for the past two years.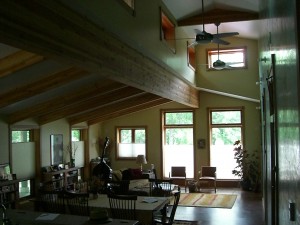 In terms of water use, contacted the City of Bloomington Utilities Department to find out the average water use per household in the city.  Each person uses approximately 2,500 gallons of water per month, which equals 2.5 units (1,000 gallons equals 1 unit).  This means that the average 2-person household uses 5 units of water per month, which is substantially higher than the Gulyas residence, which uses approximately 2 water units per month.  Click here to view the Gulyas residence water bill for the past two years.
The Gulyas house is still a work in progress.  Gulyas prioritized energy conservation technologies in the envelope design of the house, and integrated a separate ducted ERV system for exceptional air quality and energy conservation.  He also plans to install a low voltage cable lighting system throughout the open areas of the house, which will have high output 12v LED mr16s.  The new products have a very high color rendition index (CRI) in a variety of color temperatures, making it realistic to create very high quality lighting design while using a fraction of the energy of halogen (8-9 watts per lamp would be used as opposed to 50 watts).  Gulyas would also like to implement rainwater harvesting system, as well as a photovoltaic and/or solar thermal system.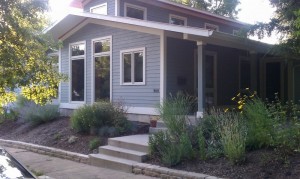 In summary, the statistics regarding the Gulyas residence are impressive.  He has implemented a variety of energy saving approaches and is looking toward the future to implement additional technologies to create a home that is even more efficient.  Stay tuned to find out what new developments take place as the Gulyas house progresses.
Read more on the project profile here.
https://greenhomeinstitute.org/wp-content/uploads/2012/08/Gulyas-Interior1.jpg
2112
2816
Brett Little
https://greenhomeinstitute.org/wp-content/uploads/2018/08/GHI_Round-300x82.png
Brett Little
2012-08-05 20:52:12
2016-09-02 17:11:52
Real numbers for a LEED for Homes Indiana Success Story