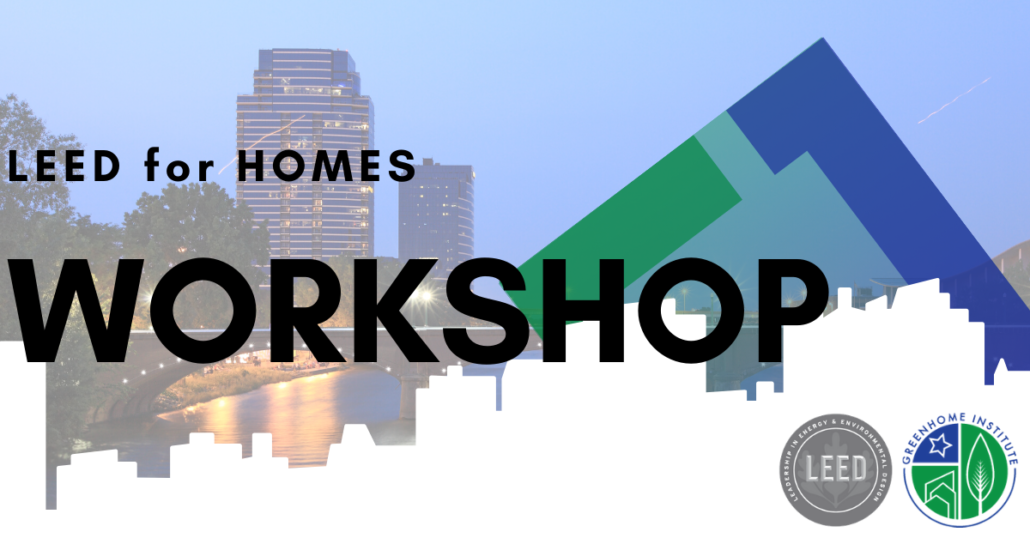 LEED certification is the most well-known green rating system in the world, but how does the new version work with residential spaces such as homes and multifamily?
Join us as we take you through each phase of the project from design to operations and everything in between; discussing how to build and renovate a better living space for occupants. We will cover the new LEED v4.1 Single-family Homes and LEED v4 Multifamily Mixed-use Low to High-rise all-in-one.
Who is this for? 
Architects, Building Owners, Developers, Builders, HVAC, Engineers, affordable housing experts, DIY homeowners, homebuyers, realtors, consultants looking to become LEED AP Homes certified, Raters and utility or govt officials looking to implement green building policies.
Here is what is covered in this series:
Overall we will discuss the LEED programs for HOMES and Midrise through the lens of each project phase and how each credit and prereq will come in to play.
Part 1: Big Picture Why LEED and Process
During this we will go over LEED data, LEED selling points, the Benefits and the process from start to end including who, what, where, when and why.
Part 2: Preliminary Rating and Design Charrette
We will spend a lot of time here discussing the most important time of LEED during the early design stage when many non-green features can be weeded out with careful design. We will show videos and do exercise on the ventilation, water, waste and rem calcs and reports. We will discuss how to run a design charrette successfully as well to get a good outcome and assign tasks. We will discuss putting together contracts for subs to make sure they are in compliance with LEED.
Part 3: Verification and During the Construction Process
We will discuss how projects usually play out during construction, what raters look for and what to look out for during the process. We will discuss the trade training opportunities during this time, sustainable sites, HVAC install, water management and insulation installation.
Part 4: Final Submittal Stage
We will go over all the documentation needed here for a final submittal and how to be successful at getting it prior to the final stage to not hold up the project.
Part 5: Operations and Marketing
Here will talk about marketing LEED for your firm, LEED EBOM and LEED Zero and how to design for these programs.
Part 6: Next Steps and Q&A
Go over what to do next if you want to do a project, become a rater or become a LEED Homes.
Continuing Education Units (CEUS) 6 Hours in:
MI Realtor CEUS (CE Marketplace)
American Institute of Architects – AIA HSW
Green Building Certificate Institute (GBCI)
LEED Accredited Professional Homes
Building Performance Institute (BPI) NonWholeHouse
Certified Green Professional (NARI & CGP)
Certified GreenHome Professional (CGHP)
AIBD
Michigan Architect / Builder License may be applicable
Lessons Learned:
Articulate the importance of the LEED BD+C V4 Homes Preq Preliminary planning to ensure a project is on track for certification from the start.
Know how to do a proper pre-construction plan review & job site management through LEED BD+C V4 Homes Credit Integrated Project Team.
Review the outcomes of successful LEED BD+ C V4 Homes IN Credit Design Charette.
Understand the basics of the LEED for Homes V4 Single Family, Multifamily and Midrise rating system.
Speaker: Brett Little, LEED AP Homes, Certified GreenHome Professional 

Brett Little is the Executive Director at GreenHome Institute (GHI), a nonprofit whose mission is to empower people to make healthier and more sustainable choices in the renovation and construction of the places we live in. Brett has served as Executive Director since 2011 but originally started his journey with GHI in 2008 as a volunteer. At GHI, Brett helps to instruct or moderate education sessions that are both online and in-person, oftentimes conducting more than 50 per year. In addition, Brett also serves as the LEED for Homes Quality Control Review Admin to ensure 100's of projects are up to LEED standards while locally serving as a LEED for Homes Green Rater on small, affordable housing projects in the Grand Rapids, Michigan area. Additionally, he helps administer Enterprise Green Communities on Low-income Housing Projects across the midwest region.
Brett has his Bachelors Degree from Aquinas College in the Sustainable Business program and previously served as a USGBC West MI board member (6 years). Brett lives in West Michigan with his wife and 2 young children – in a home that's seeking zero-energy certification via a renovation in a cost-neutral way to show that anyone can do it.
—————————————————————–
Part 1 of this 6 part video series is available to view for free at no charge, available here on YouTube.
Complete this form to register for the entire course and receive access to the complete video series, including all handouts and access to the quiz to receive CE credit.