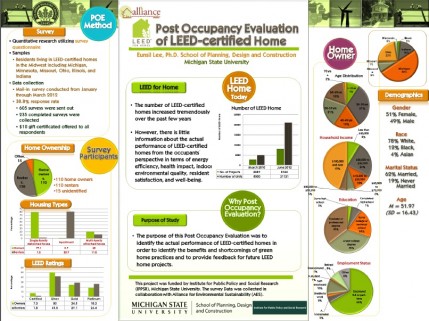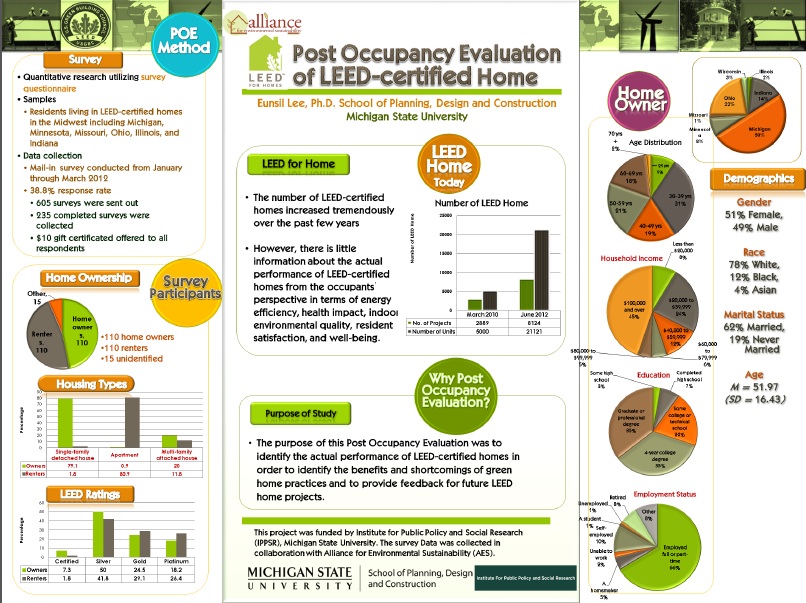 Webinar: Post Occupancy Study – LEED for Homes on Affordable Housing
recently partnered with Michigan State University (MSU) to perform a Post-Occupancy Evaluation (POE) of 235 LEED-certified homes in the Midwest, and we are pleased to share the results.  The goal is to identify the homes' actual performance after people moved in, and also the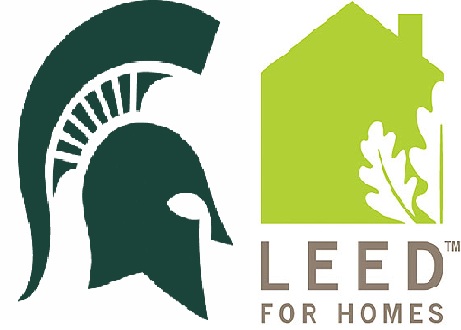 benefits and shortcomings of the current LEED for Home certification system. The survey consisted of various categories including (1) general satisfaction with the LEED-certified home, (2) satisfaction about the home in general and various aspects of the indoor environment, (3) overall well-being including the health impact, (4) energy efficiency and building performance, (5) the environmental behavior of residents, and (6) demographics.
The findings of this study revealed that most residents of the LEED-certified home were satisfied with their home and their quality of life in their home.
Continuing Education 
1 GBCI – General
1 MI Contractor (Code & Green)
1 MI Architect
If you need continuing education units for a license in another state, this course may apply. Please consult your state's requirements.
This webinar is free to review. If you are interested in continuing education credits, you must follow the following steps:
1. Watch the webinar presentation by Eunsil Lee, PhD for FREE.
2. Contact to take the quiz and score at least 80% to be approved. Please also post a comment below and help add to the conversation.
3. Pay the fee below to get your certificate and CEUs. You must be an  member to pay the reduced member fee.
Two methodological approaches were used for this study. Qualitative case studies were conducted with 15 LEED-certified Habitat for Humanity residents in Kent County, Michigan through in-depth interviews, observations, and IEQ measurement. 16 % respondents came from LEED-certified Habitat for Humanity homes in Michigan. These residents in particular, were more satisfied with their homes and their quality of life than residents of Non- Habitat homes were, although their satisfaction with their neighborhood and specific aspects of home environment (e.g., space layout, size of space, finishes, visual privacy, view, temperature, humidity) was lower than that of Non-Habitat residents. Residents of the Habitat for Humanity tended to perceive the improvement of their quality of life since moving into their LEED-certified home more strongly than residents of the Non-Habitat home did. They were also more satisfied with energy efficiency of their home than residents of the Non-Habitat home.
2 page graphic summary of Study PDF Here 
Full 96 Page Report on Post Occupancy Study 
Report Recommendations:
Promote sustainability in low-income housing: More programs should be developed that can offer incentives for participation in LEED green building certification programs and increase funding opportunities to cover the initial costs of sustainable home building for low-income families at both state and local levels, because those efforts will produce long-term economic and environmental benefits.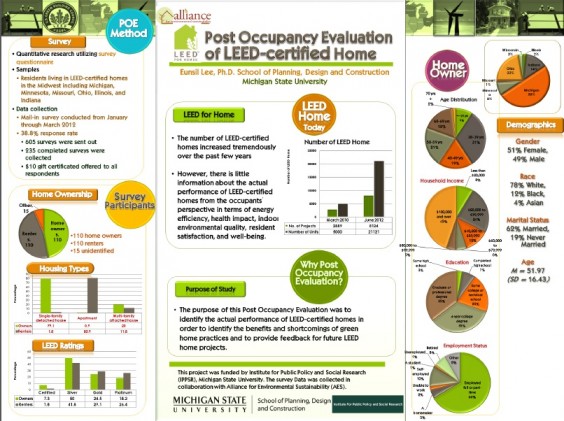 Improve the design of low-income green housing: Architects, designers, engineers, contractors, and facility managers can gain greater understanding of design and the performance of low-income green homes with the findings of this POE project by receiving feedback for the future projects. Although the houses were LEED-certified, some problems in maintaining the green features, building performance, and comfortable home environment were identified. Architects, designers, engineers, green policy makers, and Habitat for Humanity Affiliates should pay attention to the specific needs relevant to these issues to improve the design quality of low-income green home through the process of planning, design, and construction.
Implement Post-Occupancy Evaluation (POE): More extensive implementation of POEs is critical. Since LEED certification is based on "as-designed" performance, further implementation of POEs is exceptionally important to verify actual performance and expected performance. In particular, since there is no mandatory post-occupancy evaluation process included in LEED or other green home certifications, there is no empirical data to verify whether these green homes perform satisfactorily in terms of heating, cooling, or indoor environmental quality.
Contribute to the general body of knowledge: Although there is a consensus about the benefits of green homes, few empirical studies about the actual effects of LEED-certified green homes on residents' health, comfort, and satisfaction have been conducted. The findings from this study therefore increased understanding of the benefits to be gained from LEED-certified low-income homes by applying empirically tested, research -based knowledge.
Promote public awareness: This report will educate the public about the impact of LEED-certified homes on (1) improving the residential environmental quality and energy efficiency, (2) reducing residents' health risks and (3) enhancing residents' comfort and satisfaction by disseminating the results of this research at conferences and by publishing articles in scholarly and extension journals.
Make a Policy Recommendation:
1) Incentives for green homes, such as LEED-certified homes, Energy Star Homes, or National Association of Home Builders' Green certified homes, should be offered to developers, contractors, and homeowners. This will be critical for both new and existing homes located in the cold regions such as Michigan to encourage energy-efficient green home constructions for low-income families in order to offer lower utility bills.
2) Policy makers should collaborate closely with local builders and developers to apply more green home features to new or existing low-income houses. Certain types of incentives for local builders and developers are desired.
3) Post-occupancy evaluations of green certified homes should be encouraged, particularly for low-income housing. Continuous efforts should be made to save energy and keep green homes energy-efficient for these households and homeowners.
4) We suggest conducting POEs of green certified homes in five or ten years to preserve their green features and energy efficiency. Based on the POEs, the homes may or may not be repaired to keep the original functions of green features. In the POEs and repairing process, local home remodeling companies can be involved. Some incentives should be considered for the local companies or businesses to be involved in this green process if they are small or micro businesses. Tax reductions for these types of companies (i.e., energy auditors, window replacement companies) can promote small entrepreneurs working on sustainable housing projects in local communities. This can create more local jobs.
5) We suggest offering regular educational seminars for residents of green certified homes in order to offer precise information about the green features of their homes and educate them how to keep their homes green. On-site seminars can be offered one or two times in the development phase and right before the new owners take occupancy. Once residents move to their new homes, it is recommended to send flyers via mail or email to remind them of the green features of their homes and inform them of how to use and maintain these features. Mailed or emailed flyers will work better than on-site seminars because many residents have full- or part-time jobs.
6) In addition, incentives should be considered for upgrading low-income housing to make it more energy-efficient and environmentally friendly. Currently there is a 500 dollar maximum tax credit for upgrading any housing features to make them energy-efficient. This maximum should be increased to keep up with the real cost of upgrading energy-consuming HVAC systems to energy-efficient ones. In particular, more aggressive incentives should be offered to households below a certain income level so that homeowners can be more active in upgrading their conventional houses to energy-efficient green ones.
Thanks to the Michigan Applied Public Policy Research (MAPPR) Grant from the Institute for Public Policy and Social Research (IPPSR) and  Michigan State University (MSU) who worked with to perform this Post-Occupancy Evaluation (POE).
See more details on a similar LEED Pre-Occupancy Report.
https://greenhomeinstitute.org/wp-content/uploads/2012/12/Post-Occupancy-LEED-Graphic21.jpg
603
806
Brett Little
https://greenhomeinstitute.org/wp-content/uploads/2018/08/GHI_Round-300x82.png
Brett Little
2012-12-17 12:07:49
2016-09-05 16:49:22
Webinar: Post Occupancy Study – LEED for Homes on Affordable Housing