Become a member today!
Join these individuals, companies, non-profits and GHI professionals in supporting the education and empowerment of people to make the places we live healthier and more sustainable. Below are the various levels, types, and benefits. Once you decide, the form below will populate the price, when you select your level.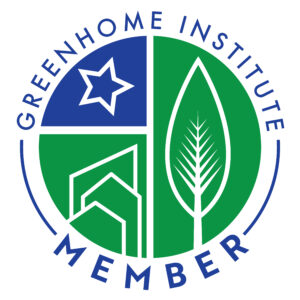 Student & Individuals Level(s):
Discounts on larger online courses & continuing education
– Up to 100% off!
Customized certificates generated for you for EVERY FREE CE webinar
you attend.
Automatic webinar registration for all of our webinars for the year!
Discounts on in-person education CE events
– Up to 100% off!
Receive 50% off at Green Building Advisor.
Finance your next project/s through the Clean Energy Credit Union.
– Includes solar, home energy upgrades, electric cars, and electric bikes!
Listing in our member directory.
Receive discounts on green building products.
Receive GreenHome Institute graphics and logos to use on your social and printed marketing materials.
Receive a listing on the GreenHome Institute website along with continuous social media recognition.
Project consulting and design review discounts are available to members.
Discounts on LEED Provider and USGBC fees.
Free GreenStar Registration & Plan review.
Be able to write professional articles on our website or blog
– $100 instant savings per article.
Company Package:
Receive ALL OF THE BENEFITS from the Individual/Student Membership ALONG WITH:

Discounts on Multifamily LEED for Homes and EBOM
Certification & Registration fees.
Share education benefits with up to 5 members of your company.
Receive 50% off GreenStar multifamily certification.
Receive a Corporate listing on the GHI website
Continuously have the opportunity to share social media updates about company news across all GHI social networks.
Register Below!
Dues are based on Company Gross Revenue*
1. $250k Or Non Profit OR Benefit (B) Corp = $175.00
2. $251k – $500k = $225.00
3. $501k – $1.5MM = $350.00
4. $ >1.5 MM – $3MM = $425.00
5. $3 Million + = $500.00
Individual $135.00*
Student $50.00
 MEMBERSHIP OPTIONS
GreenHome Institute
625 Kenmoor Ave SE Ste 350
PMB 20674
Grand Rapids, Michigan 49546-2395 US
Tel: (616) 458-6733
Toll Free: (888) 533-3274
Email: info@greenhomeinstitute.org
About Us
The GreenHome Institute, formerly The Alliance for Environmental Sustainability (AES) is a 501(c)3 non-profit with a mission to empower people to make healthier and more sustainable choices in the renovation and construction of the places we live.