GreenStar is a robust above code renovation, addition & new construction program to the market. This program ensures healthier, more durable homes that save energy and water thus reducing the cost of living and improving comfort. GreenStar is based on the five pillars of green; Energy, Health, Water,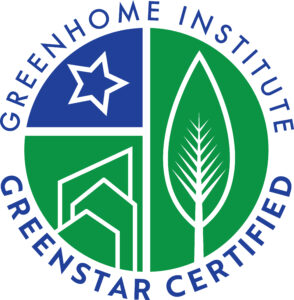 Materials & Place and how these are affected systematically by the seven components of a home including, Outdoor/Site, Building Envelope Systems, Mechanicals, Electrical/Lighting, Plumbing Systems and Fixtures, Finish Materials and Coatings and Waste Management.
Whether you're remodeling a room, adding an addition or building new, take the guesswork out of building better!
Greenstar is continuously improved based on the changing nature of sound building science and works closely with our users to ensure the program is relevant and viable.
Certified Project List & Profiles
Below are the featured project profiles of all our certified homes. Scroll down to view some remarkable work!
Green Home Institute
PO Box 68164
Grand Rapids MI 49516
Tel: (616) 458-6733
Toll Free: (888) 533-3274
Email: info@greenhomeinstitute.org
About Us
The GreenHome Institute, formerly The Alliance for Environmental Sustainability (AES) is a 501(c)3 non-profit with a mission to empower people to make healthier and more sustainable choices in the renovation and construction of the places we live.