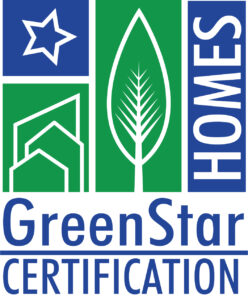 Formerly the Minnesota GreenStar (MNGS), GreenStar Home Certification is a robust above code renovation, addition & new construction program to the market. This program ensures healthier, more durable homes that save energy and water thus reducing the cost of living and improving comfort. GreenStar is based on the 5 pillars of green; Energy, Health, Water, Materials and Place and how these are affected systematically by the 7 components of a home including, Outdoor/Site, Building Envelope Systems, Mechanicals, Electrical/ Lighting, Plumbing Systems and Fixtures, Finish Materials and Coatings and Waste Management.
Whether you're remodeling a room, adding addition or building anew, take the guesswork out of building better!
Why GreenStar Homes? 
The free online checklist and manual put you in the drivers seat and can help you easily generate green scopes of work, bids, specifications and accountability forms for general contractors, designers and all sub-contractors such as insulators, HVAC, plumbing, framing, landscaping and others based on your needs.
Third Party Quality Assurance Inspections 
Trust but verify, greenstar raters and quality assurance reviewers help ensure what was planned was actually done in the home, helping improve value, comfort, health and energy savings.
Why GreenStar vs. Other Labels? 
Unlike other programs, GreenStar is a nonpolitical market driven voluntary program that is not built into legislative mandates and is designed to educate the market to make homes BETTER. Greenstar is continuously improved based on the changing nature of sound building science and works closely with our users to ensure the program is relevant and viable.
How do I learn more?  
Watch a 1 hour CEU approved webinar session on basics of this program. This counts towards 1 of your requirements to become greenstar qualified. Watch now
GreenStar Process
Step 1 
Access the GreenStar Free Online Checklist, Manual & Training Video here
Access the workbook and manual navigation guide (after you login into the workbook)
Step 2 
Project team leaders wanting to certify a project to GreenStar must become qualified. Qualification can happen in 1 of 4 ways. Project team members with different trade skill sets may also become qualified to earn more GreenStar points.
On Demand E-Learning – Open book quizzes – 2 sessions

Host a design meeting with GreenStar staff or rater on a registered project
Get started on submitting your application to become GreenStar Qualified.
Step 3 – Highly recommended
Complete optional pre-construction plan review for planned new construction or major gut rehabs and/or have a complete test in inspection and energy audit of the existing home for remodels and additions. This includes completing and submitting your required planning materials such as waste management, erosion, landscape and your water conversation plan.
Step 4 
If GreenStar is attainable, register your project with the GreenHome Institute and get access to the online documentation file share.
Step 5
If not done so already, hire your GreenStar rater to begin the 3rd party review and inspection of your project. Raters should be involved early and should know the construction schedule. GreenStar raters are trained by the institute and typically also hold a Building Performance Institute (BPI) or Home Energy Rating System (HERS) credential. Other accepted raters may be LEED Green Raters or NGBS Green Verifiers. If you can't locate a rater in your area GHI will work with your with you find one or verify your project in other ways.
Step 6
You and/or your rater are beginning to assemble documentation as the project progresses in the form of photos, receipts, signed accountability forms and testing data such as blower door tests. It's a good idea to upload this data to the checklist, GHI online file management system or your own internal system.
Step 7
GreenStar rater conducts final review and testing to ensure all measures listed on the checklist are installed as stated, accountability forms are completed and energy assessments are complete. If landscaping changes are made on the project the rater will need to review this  prior to final submission.
Step 8
Qualified team leader submits final sign-offs and any documentation through online checklist and selects project is ready for review. GreenStar quality assurance director (GS QAD) reviews documentation and sign offs to ensure the project is accurately completed.  If any issues arise GS QAD contacts GreeStar Rater and/or team leader to get more information. Points may be removed or certification levels adjusted at this time if credits appear to be missing.
Step 9 
GreenHome Institute issues the final notice of certification and the E certificate. Wood plaques from deconstructed Detroit buildings or South East MI scrub cherry trees can be made into unique plaques for the project. GHI collects case study information and photos from project team if desired and helps promote and market the project. GHI can help set up community tours as well, of the project.
Step 10
Fast forward 1 year. Homeowner or project team leader submit utility data to GHI for study purposed as required and can publish data if a homeowner is interested in sharing their success. This is required as well to be recognized as a Zero Hero if zero energy has been achieved.
Register your GreenStar Project
Find qualified GreenStar Rater or Professional
Go to our find a pro page to find a professional in your area!
The 5 Pillars of Green
The 5 Pillars of Green
Energy

Energy is the starting point to green home building and remodeling.  Reducing utility bill costs, energy use and improving comfort are the cornerstone to a green certified home. Through simple yet advanced insulation and air sealing techniques a majority of a homes energy is reduced. Taking advantage of the sun when possible and keep out during the summer can be a no cost way to reduce energy use. High efficiency and right sized mechnicals, along with energy star appliances and LED lighting are all ways to reduce energy demand.
Health

Indoor air plays a major role in overall health and lifestyle. This home contains fewer products that off-gas harmful chemicals. It also incorporates a ventilation  and filtration system that reduce airborne contaminants, diminishing the chances of allergies, asthma, and other more serious health risks. Health can also be impacted by other areas besides indoor air quality. Clean water with reduced toxins but healthy minerals is important for health. Accessibility is a growing concern and having easy access to a home a need to for people of all ages and physical situations. Electromagnetic frequencies coming into our home or those that are present in appliances, lighting and wiring also give concern for harming sleeping partners and causing other alignments such as cancer.
Place 

Development Practices used during the construction of this home diminish land degradation and deforestation, promote healthy landscapes, reduce waste, and prevent potential erosion associated with lot development during the construction and remodel process. Having a sense of place and being located near local resources, bikes lanes, public transportation can also be a benefit of a green home. More often food is being grown as a way to offset the costs and environmental issues with out current food system.
Materials

Home construction, renovation projects and upkeep depend heavily on natural resources. The use of locally manufactured products, recycled material and product re use or refurbishment is encouraged, because they reduce environmental impact and support the local economy. Using durable materials and following good practices to ensure the home is built well to keep the home dry helps the environment by reducing the amount of future materials needed to maintain the home.
Water

A green home uses water-wise technologies that help lower utility bills and reduce the total amount of water needed to maintain a comfortable lifestyle. Water shortages are a primary concern in the 21st century, and this home addresses water conservation needs.
Certified Project List & Profiles
Program Technical Updates
Below are the featured project profiles of all our certified homes. Scroll down to view some remarkable work!