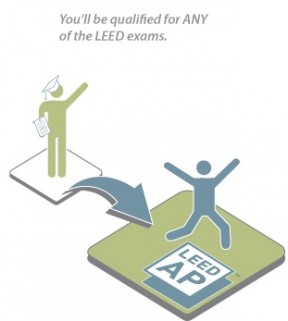 GRAND RAPIDS, MI –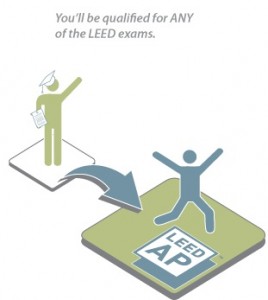 With all the interest in "green jobs" training from colleges and universities you might be surprised to learn that a cohort of emerging green design and construction professionals are being trained all over the US on Habitat Projects. AT 426 Adams SE in the City of Grand Rapids. 426 Adams SE is a construction site for a new home being built via Habitat for Humanity of Kent County. The reason the cohort is there is Habitat Kent's commitment to building 100% Leadership in Energy and Environmental Design (LEED) certified homes. Since 2007 that commitment has led to 100 LEED projects.
LEED certification starts on projects as small as a single-family residential home, all the way up to an awe-inspiring skyscraper or sports stadium. And with more municipalities requiring LEED and an increase of consumer demand for green, LEED Professional Accreditation is an essential credential for today's building industry professional. However, the road to LEED Professional Accreditation is not easy – as extensive LEED project experience is now a prerequisite for professionals to qualify for the LEED exams. This requirement creates a near-impossible barrier for recent graduates, unemployed, and those changing careers: how does one gain LEED experience, if LEED experience is required for employment?
But Habitat for Humanity of Kent County has a solution: an entry-level, hands-on LEED project experience program called EverbuildPRO.
This program is possible through Habitat's partnership with BOULD, a Colorado-based social enterprise that grew out of the Boulder, CO Habitat affiliate, who sought to help LEED-seeking professionals and students gain green experience through Habitat home construction.
EverbuildPRO creator, Shane Gring, started as a Habitat volunteer with the Boulder Habitat and quickly identified the need — and his solution. The first affiliate he reached out to for beta testing was Kent County. Says Gring, "In the green building world Grand Rapids' Habitat affiliate is well known as a leader. Being a native-Michigander I'm well aware of West Michigan's commitment to sustainability. Could there be a better place to start?"
EverbuildPRO is a hands-on experiential education program – that provides professionals and students with the hand-on, real world experiences necessary to launch green careers. The program consists of 50 hours of experience on a 4-month building project – where participants will get access to: participation in design and planning meetings, tackling of green research and documentation, witnessing performance inspections, and even rolling-up their sleeves and building on-site! Upon program completion, participants will graduate with multifaceted green experience, a LEED-certified building to add to their resume, and qualification for LEED Accreditation, the world's most recognized sustainability credential.
"Having a passion for sustainable building brought me to Habitat", stated Jamison Lenz, a Habitat volunteer pursuing his LEED AP+Homes accreditation. "After attaining a degree in Sustainable Business from Aquinas I wanted to find an experience with high performance building. Volunteering with Habitat gives me that hands-on LEED opportunity you just can't access anywhere else."
"This program is really helpful. We love our dedicated volunteers who work alongside our home buyer partners. Now being able to integrate some of them even more into the life of our projects is exciting" believes Christopher Hall, Habitat Director of Strategic Initiatives. "I hope they all take their test, pass it with flying colors and then go on to help improve the built environment. But even if they don't pursue LEED AP any further, we still end up with a new home ownership opportunity for a hard-working, qualified family who needed a hand up. That alone is pretty cool."
Interested individuals can find registration information for the upcoming project at www.habitatkent.org/green under "LEED AP Project Experience".  Anyone can Habitat or Individual can participate in their local area across the country too.
Contact:
Christopher J. Hall
Director of Strategic Initiatives
Habitat for Humanity of Kent County
About Habitat for Humanity of Kent County
The nonprofit Christian housing organization Habitat for Humanity of Kent County seeks to serve God, build hope and transform lives through neighborhood revitalization and homeownership for families who otherwise could not afford a home of their own. Since 1983, Habitat Kent has served more than 320 families by welcoming people of all races, religions and nationalities to construct, rehabilitate or preserve homes; by advocating for fair and just housing policies; and by providing training and access to resources to help families improve their shelter conditions. For more information, to donate, volunteer, or purchase a home, please visit www.habitatkent.org, or follow us atwww.facebook.com/habitatkent or at www.twitter.com/KentCoHabitat.
https://greenhomeinstitute.org/wp-content/uploads/2012/09/BOULD-EVERBUILD1.jpg
347
311
Brett Little
https://greenhomeinstitute.org/wp-content/uploads/2018/08/GHI_Round-300x82.png
Brett Little
2012-09-28 17:30:47
2016-09-02 17:11:53
Habitat Volunteers Gain Green & LEED Experience