West Michigan Organizations Awarded LEED Homes Power Builders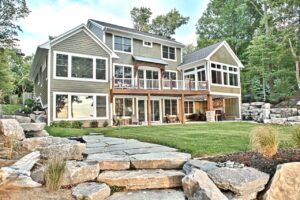 Recently two West Michigan Organizations were awarded the distinguishing "LEED Homes Power Builders Award by the USGBC (U.S. Green Building Council). Through this award and others, the USGBC recognizes projects, architects, developers and home builders who have demonstrated outstanding leadership and innovation in the residential green building marketplace.
The "LEED Homes Power Builders," was developed by the USGBC to honor an elite group of developers and builders who have exhibited an outstanding commitment to LEED (Leadership in Energy and Environmental Design) and the green building movement within the residential sector. In order to be considered as a Power Builder, developers and builders must have LEED-certified 90 percent of their homes/unit count built in 2015 at any LEED certification level.


One of the great benefits of the LEED certification process is that it can apply to very different projects types. As you will see with the two organizations recognized, LEED certification has important benefits to low-income houses in urban settings to higher end homes in remote settings. Both organizations benefit from using the LEED certification process to add validation to their building efforts and to ensure the homeowner is getting a quality built efficient home.
Cottage Home based of out Holland and Habitat for Humanity of Kent County were the two West Michigan recipients honored with the recognition of Power Builders. While they are in different segments of the development and remodeling of homes in West Michigan, both are setting the standard for sustainable building practices.

Habitat for Humanity of Kent County  is on their way to completing 150 homes and counting in the Kent County/Grand Rapids area that has achieved some level of LEED Certification.  Corri Sandwick Home Performance Coordinator for Habitat for Humanity of Kent County stated that the organization started seeking LEED Certifications in 2006 and by 2007 all new homes built were LEED Certified.
Recently, they have been one of the first builders committed to building according to the new and more stringent LEED v4 criteria even before it had been fully finalized. Sandwick said it started in partnership with Grand Rapids Community College Residential Construction Program in celebration of their 100th anniversary. The two organizations decided to try a v4 build. Once they accomplished that build, Habitat Kent decided to build all future homes to the same criteria knowing it would soon be the standard. To date, Habitat Kent has completed 10 LEED v4 certified homes.
Habitat Kent has aggressive goals in the future both related to  LEED but also participates in programs such as Energy Star.  Habitat Kent is also considering the benefits of getting involved in Zero Energy Ready and the EPA's Water Sense Program. Building homes that are sustainable just make sense for Habitat Kent. It sets homeowners up for success, keeps costs down for homeowners and aligns with Habitat Kent's partner organizations' principles. Habitat Kent states that by being wise about green building, they include only what will be most beneficial to families. This creates a healthful environment and drastically reduces energy and water use, saving Habitat Kent homeowners thousands of dollars. For a family of four living on $30,000 a year, reducing their utility bills to an average $105 a month goes a long way in helping them be successful in their home.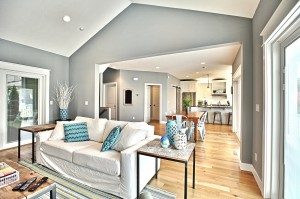 Cottage Home based out of Holland is the other recipient of this prestigious title. According to Jeremy Vaneyk construction manager, they started building based on LEED criteria in 2008 and to date have built 100 sustainable homes along the lakeshore. Vaneyk also said that 31 homes have achieved a LEED certification with 13 of those homes being Platinum certified. Building sustainably is very important to Cottage Home. Both Vaneyk along with Founder Brian Bosgraff both live in LEED Certified homes and can use their experience as builders and homeowners to help their clients. Cottage Home strongly believes it is their responsibility to build with the environment in mind. The LEED certification process provides their clients with a validation that their home is being built to some of the most stringent standards. LEED certification is one of the many tools they use to build focusing on air quality, energy efficiency and site preservation as a core foundation of the build. It is much more than a certification process to Cottage Home but more of a business philosophy.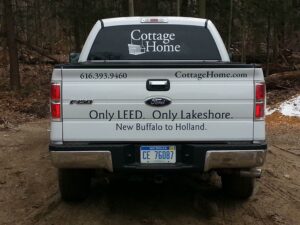 Both Cottage Home and Habitat for Humanity of Kent County are equally passionate about green building and both use the LEED Certification process to set the bar for sustainable building in West Michigan. Their business while different in many regards is also very similar in others. They both show a strong desire to build with the environment in mind and factoring in their homeowners wants and needs.
LEED has become the world's most recognized rating system for green buildings. The LEED for Homes rating system was created as a way for single-family homes and multifamily buildings to achieve LEED certification. LEED for Homes projects undergo a technically rigorous process to become certified, including multiple on-site inspections and diagnostic tests. According to Green Home Builder, more than 230,000 single family and multifamily units are certified or registered. USGBC is working to make the LEED residential program even more accessible and utilized by builders, developers, and architects. LEED v4, the latest version, will be required for new projects certifying after October 2016. USGBC's recent Green Building Economic Impact Study found that the residential green construction market is expected to grow from $55 million in 2015 to $100.4 million in 2018, representing a year-over-year growth of 24.5 percent.

https://greenhomeinstitute.org/wp-content/uploads/2016/07/group-1.jpg
398
1043
Brett Little
https://greenhomeinstitute.org/wp-content/uploads/2018/08/GHI_Round-300x82.png
Brett Little
2016-07-14 20:47:02
2019-07-17 18:35:46
West Michigan Organizations Awarded LEED Homes Power Builders