With over 400,000 certified homes and buildings, LEED is the global leader when it comes to residential sustainability.  Whether you're rehabbing a home or starting a new construction project, LEED for Homes ensures green building criteria is met. The GreenHome Institute (GHI) is one of the original LEED for Homes providers, serving the Midwest. We've certified over 8,000 homes and educated over 30,000 professionals on how to build and design better homes through LEED.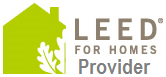 Your verification team will include a LEED for Homes Provider Organization (GreenHome Institute) and a Green Rater, who work with you on verification and certification. A Green Rater will provide the required on-site verification, while the Provider Organization will oversee the certification process.
You won't be using LEED Online for certification.
Certification is handled 100% by the Verification Team (GreenHome Institute) on our online file share documentation system.
Register your project with us here or learn more below.