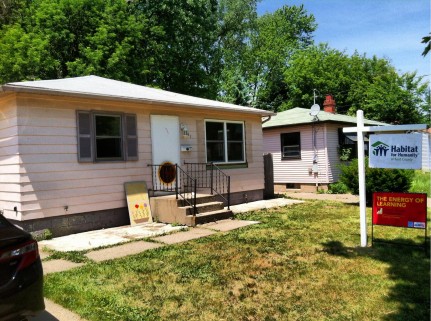 A Green Future in the past – Habitat Registers 100th LEED Home in Grand Rapids
After dozens of new and gut-rehab LEED projects, the Grand Rapids, Michigan Habitat for Humanity affiliate is ready to begin a new era. That happens to be a really old era too.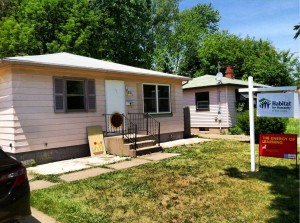 With LEED for Homes-registered project #100, Habitat for Humanity of Kent County will start work on their ambitious "Wealthy Heights" neighborhood effort to rebuild homes built in the 1880's as affordable, workforce housing. After building one new LEED platinum home (Grand Rapid's 1st!) and preserving a single-family home and a two-unit in Wealthy Heights over the last couple years, Habitat is ready to start seven more projects this fall. It will also coincide with major road and infrastructure improvements by the City of Grand Rapids. Neighbors in Wealthy Heights get ready for construction season!
"The neighbors and business owners who have led the revitalization effort in this neighborhood over the last three decades made it possible for Habitat to step into the mix. Being historic has been a challenge and a blessing but now become a really desirable location for our home buyer partner families," said Habitat's Chris Hall.
As Director of Strategic Initiatives, Hall has been part of this project since 2009 when it was first brought to Habitat. With a history of results, Habitat Kent was in the right place at the right time. "It all happened as we were starting to look at ways to become more effective in transforming entire neighborhoods through our work."
Since then, Habitat has completed the three home projects but also built a community garden and hosted an AmeriCorps Signature Service Project which offered basic exterior repairs, landscaping and a fresh coat of paint for home owners on Donald Place SE.
"We've seen residents show up at hearings in support, out working on site, and they have embraced our new families as part of the neighborhood. For-profit builders are doing work in the neighborhood too. This week I heard from folks as far away as New York City regarding a possible LEED-ND certification. Considering we haven't even begun the major work yet you'd have to say it's already been an amazing success story."
After committing to 100% LEED for Homes certification in 2007, Habitat Kent has gone one to become recognized internationally as a leader in affordable, sustainable design and construction. In fact, they were awarded for "Outstanding Program Commitment" to LEED for Homes at the 2011 Greenbuild Conference and Expo in Toronto.
While the positive energy surrounding this project is building, Hall says there is still opportunity for you to help, "We are always looking for partners—either through financial contributions, donations of materials or professional services, as volunteers on site and even as home buyers." Anyone can visit habitatkent.org to find out more. "Someone can even gain LEED project experience to use toward a LEED AP credential through Habitat! Anyone interested sustainable design will find something cool about this project."
Future posts will feature a profile of the 100th registered home at 327 Freyling Place SE as well as the other upcoming and completed projects.
Research is being done by MSU and FSU students and faculty with support from Dow and Habitat. They begin with the lowest cost and simplest forms of energy efficiency including cans of spray foam at joints and in gaps, spray foam in rim joists, and other air sealing measures. From there they will test other wall insulation and mechanical system combinations. At each step the homes are tested and analyzed.
Habitat Director of Strategic Initiatives Chris Hall enjoys seeing young people included in the project, "The Michigan State and Ferris State students have really been on the frontline the whole way and they're getting their hands dirty—in a good way. What they're learning will directly be applied to what they do in their careers in architecture, engineering, construction management or beyond. And that their work on these homes specifically will benefit a low-income family is especially cool."
More details on the research project https://greenhomeinstitute.org/wp-content/uploads/2012/06/Black-Hills-Home-Energy-Research-Project-Habitat-for-Humanity-Kent-County-.pdf
 Want to learn more about affordable Green/LEED major rehabs to existing homes? Free recorded webinar on Habitat's success here https://www.fuzemeeting.com/replay_meeting/50e23e6d/2385117  Need CEUs for watching this? Email us Info@allianceES.org
https://greenhomeinstitute.org/wp-content/uploads/2012/06/Habitat-for-Humanity-Research-Home1.jpg
1432
1921
Brett Little
https://greenhomeinstitute.org/wp-content/uploads/2018/08/GHI_Round-300x82.png
Brett Little
2012-06-22 12:44:37
2016-09-05 16:49:22
A Green Future in the past – Habitat Registers 100th LEED Home in Grand Rapids