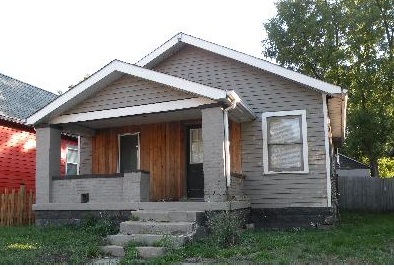 Abandoned house gets new life in planned LEED renovation
Indianapolis, IN)    GreenPath Homes will renovate a formerly abandoned 110-year old cottage in Fountain Square, Indianapolis, to the US Green Building Council's rigorous LEED for Homes standard to show how distressed urban properties can be given new life as healthful, efficient homes.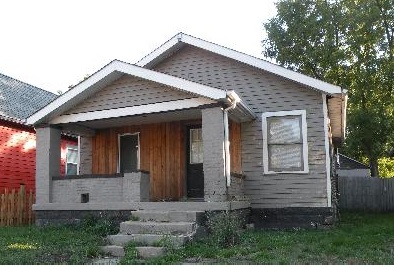 In addition to reaching for the LEED Platinum certification level, GreenPath Homes is leading professional-level green building education and an extensive homeowner and community awareness campaign.  A 10-person project team has been planning the renovation and will document the credits for certification.  Open houses during and after construction will allow the public see inside the walls of a green home, and the project's blog can be followed at www.takethegreenpath.com.
"This home will be the first LEED Platinum renovation in Indiana, and the second oldest home in the Midwest to receive this standard," says William Wagnon, principal at GreenPath Homes and a LEED Accredited Professional for homes. "I hope homeowners, developers and even 'flippers' will take note of what new life can be possible with the City's abandoned houses."
Acquired through Southeast Neighborhood Development's (SEND) Transfer and Transform Program, the home at 1055 Elm Street was once on a list of properties slated for demolition.  The planned renovation seeks to preserve character and charm of the 960sf, 2-bed 1-bath home, while updating the space use for modern lifestyles.  The home will also receive a deep energy retrofit including insulation, air sealing, high efficiency HVAC and Energy Star appliances. The energy model projects the home could be 40% more efficient than a standard home and 30% more efficient than an Energy Star home.
In committing to the LEED process, the project must also focus particular attention on:
Durability measures
Indoor air quality
Water efficiency strategies and storm water management
Environmentally preferable products and finishes
Being located within blocks of the heart of Fountain Square and the Cultural Trail, the home also has excellent access to community resources and public transportation, another component recognized in the LEED for Homes rating system.
The renovation is expected to get underway in December and be completed in just 2 to 3 months.  After work is complete, the home will be offered for sale.
William Wagnon, LEED AP for Homes, has been renovating distressed urban properties in Indianapolis since 2005, and recently organized GreenPath Homes to consult and contract with homeowners and developers for better urban living spaces.  His passion is smartly-designed small residential projects where he can preserve the charm of older homes and update their function for current lifestyles.
https://greenhomeinstitute.org/wp-content/uploads/2012/12/1055-Elm-Street-Remodel1.jpg
267
394
Brett Little
https://greenhomeinstitute.org/wp-content/uploads/2018/08/GHI_Round-300x82.png
Brett Little
2013-02-18 10:43:55
2016-09-02 17:11:52
Abandoned house gets new life in planned LEED renovation