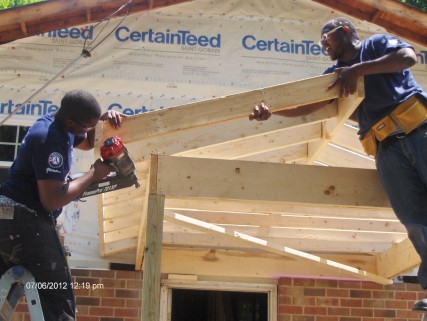 YouthBuild Akron Ohio LEED Platinum Rehab
Akron Summit Community Action, Inc. (Akron YouthBuild) partnered with Saint-Gobain through the Saint-Gobain Corporation Foundation with support from the Saint-Gobain family of companies, to complete a green renovation at 887 Garfield Street in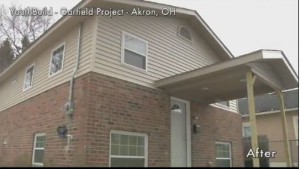 Akron, OH.  Saint-Gobain was founded in 1665 to manufacture glass for the Palace of Versailles in Paris, France. They are the Worlds largest building materials company. Recognized as a 2009 & 2010 Energy Star partner of the year by the US EPA, Saint-Gobain earned the 2011, 2012, & 2013 Energy Star Sustained Excellence Award, the highest level of recognition for outstanding contributions to protecting the environment through energy efficiency. The YouthBuild program started in 1978 in East Harlem, New York. The program concentrates on youths aged 16-24 who work full-time for 6-24 months while working toward their GED's or High School Diplomas while at the same time learning job skills by building affordable housing in their communities.
The Garfield Project is the first YouthBuild Akron home to achieve the prestigious LEED Platinum certification.  Saint-Gobain and its family of companies have donated a range of building materials and many hours of on-site support from CertainTeed Building Scientists to complete the green home renovation. The hom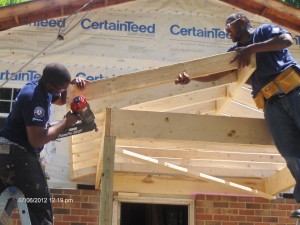 e features a heat recovery system and very efficient CertaSpray Closed Cell Foam Insulation which contribute to its energy efficiency. The home received a HERS score of 65 meaning that it is 35% more efficient than other comparable homes. In addition to energy efficiency measures the home incorporates several landscaping features that reduce it's irrigation needs. For example, drought tolerant plants were installed along with a slow-growing grass that needs no fertilizers, little mowing, and relatively little water. The home harvests rainwater from its roof. These aspects have accumulated a 59% water reduction due to the sites landscape architecture alone. 
CertainTeed (an affiliate of Saint-Gobain) donated many of the building materials. These materials contributed significantly to the overall efficiency and sustainability of the home. Grenite Engineered Stone Countertop's were used and constructed with up to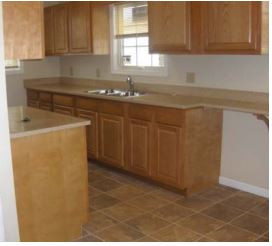 85% post-consumer recycled content. Air-Renew Gypsum Board boasts industry only technology that removes VOC's from the air and converts them into safe inert compounds, once they are captured in the board they cannot be released into the air. This Gypsum Board also aids in the reduction of moisture and mold. On the rooftop, LandMark Solaris – Solar Reflecting Roofing Shingles were utilized. They reflect the suns rays and reduce roof temperatures up to 20%.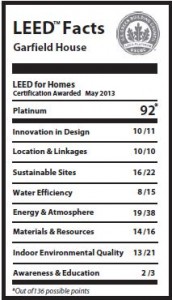 Print and Share the Project Profile – PDF
Saint-Gobain & YouthBuild Akron (Garfield House) – PDF
https://greenhomeinstitute.org/wp-content/uploads/2014/05/Garfield-House-in-progress1.jpg
2480
3296
Brett Little
https://greenhomeinstitute.org/wp-content/uploads/2018/08/GHI_Round-300x82.png
Brett Little
2014-06-13 15:15:12
2016-09-05 16:49:25
YouthBuild Akron Ohio LEED Platinum Rehab