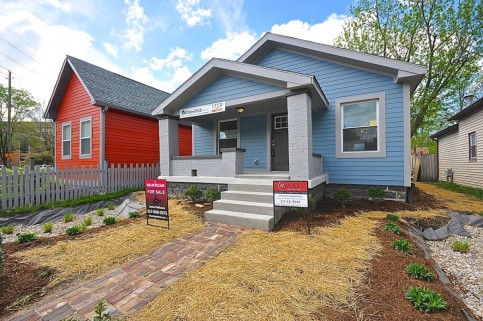 Indianapolis Restored Home Gets LEED Platinum & Sells Fast!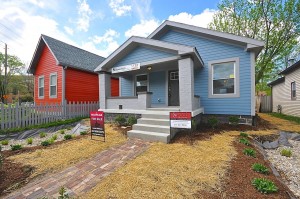 This home located on Elm St. in Indianapolis, IN was an abandoned space, built in 1910, that was bid on for redevelopment through the Southeast Neighborhood Development (SEND) organization's Transfer and Transform program, which seeks to reinvigorate the community
"William Wagnon of Green Path Homes  had been looking for an opportunity to do a LEED Platinum certified redevelopment on a house that could serve as an example of green building for contractors, home owners and a city in need of sustainability." The house on Elm presented a perfect opportunity to showcase the economic viability of a green project as well as its added health and enjoyment benefits.
No subsidies or donations were taken to help the project along. "We wanted to do it as a market-rate project so that nobody could make an excuse for not doing it. That's the point I wanted to make," Wagnon said.
"The house now features around $7,000 worth of insulation, putting the home's heating efficiency well-above most standards. The floor plan was changed to allow for a contemporary living style. Raised ceilings and other space improvements provide for maximum storage in the home. A rain garden now sits at the front of the house fed by a drain pipe from the roof. The backyard deck looks out onto a single-car garage, raised planters for growing vegetables and a patch of lawn." Additionally, 100% of installed plants were drought tolerant further reducing irrigation needs. In total, the outdoor water savings plus the water savings due to the indoor installation of highly efficient faucets, showers, and toilets etc. results in a monthly water savings of 69% based on total water use. We were able to utilize the V4 Homes Workbook: Water Reduction Calculator to derive this number. A copy of the information is attached to the project profile at the bottom of this post.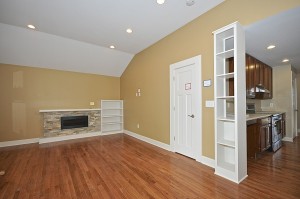 The small 960 sq ft. 2 bedroom 1 bath home is located in an area with outstanding access to community resources such as public transportation. This well sealed home uses energy efficient appliances and  is expected to save 47% on energy bills. Insulated piping adds to the efficiency of this home. 
A central HVAC system equipped with an additional dehumidification mode adds to the health of the home along with the use of hardwood with a preference for FSC certified woods.
So much care was put into this home on Williams blog he writes … "Walter, who has does the exterior sheathing, rigid foam insulation and now the siding work is putting flashing tabs behind each butt joint on the siding.  These joints will all be caulked, but it's just a fact that caulk fails in a couple of years.  But with the flashing tabs, any water that penetrates is redirected right back to the outside.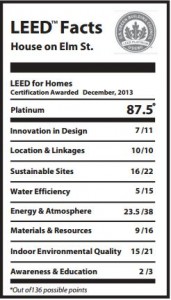 Brad nailed every shingle of the roof by hand.  Yes, it takes much longer, but he knows each one is set.  In building the soffit end caps, he cut fairly complex pieces so it could be 1 piece of solid wood, instead of having multiple joints that would require caulking."
This project was the first residential home in the area to achieve the prestigious LEED Platinum certification.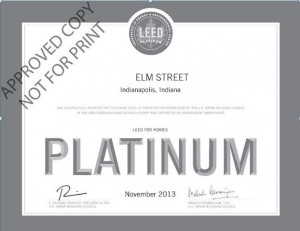 News Post Featuring this Project
http://www.nuvo.net/indianapolis/redeveloped-home-is-template-for-green-building/Content?oid=2567639#.UyCC7_ldWPM
Green Path Home Website and Blog
Download and share the project profile – PDF (Includes V4 water reduction calculator and EPA WaterSense Info)
https://greenhomeinstitute.org/wp-content/uploads/2014/03/Elm-St.-PIC1.jpg
797
1200
Brett Little
https://greenhomeinstitute.org/wp-content/uploads/2018/08/GHI_Round-300x82.png
Brett Little
2014-03-27 10:56:20
2016-09-02 17:10:08
Indianapolis Restored Home Gets LEED Platinum & Sells Fast!