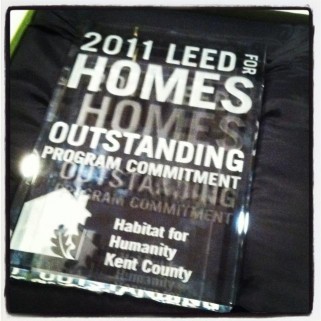 LEED for Homes OUTSTANDING PROGRAM COMMITMENT Winner.

Habitat for Humanity Kent County has won this years Green Build 2011 Award for Outstanding Program Commitment to LEED for Homes.   is proud to have served Habitat for Humanity in Kent County since their commitment in 2007 to Build all LEED for Homes Silver certified projects. Habitat Kent County has been raising the bar and is completing Gold LEED certified projects and they are on their way to complete a platinum.  Currently they have achieved
85 Registered LEED Projects
70 Certified LEED Projects
61 Average HERS Rating
The spotlight project for their award was a  110-year-old single-family home in the historic Wealthy Heights neighborhood in southeast Grand Rapids. This home represents a beautiful example of affordable, sustainable, historic preservation. Along with the typical Habitat for Humanity volunteer labor force, a core team of four recent graduates of the Grand Rapids Public Schools Academy of Design & Construction assisted from start to finish. These young people learned how to rehab an historic home in the context of a challenging LEED for Homes project which achieved LEED Gold.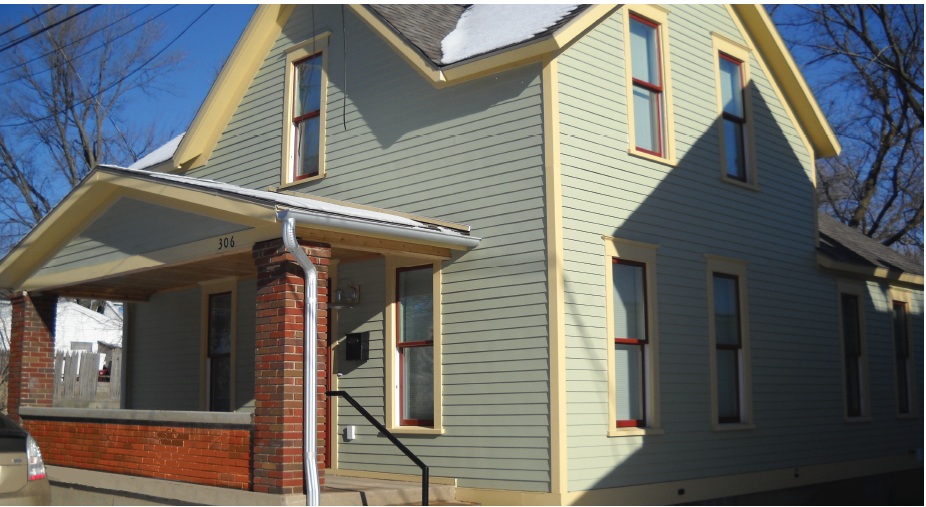 The 53 HERS score for this home was, at the time, the most energy efficient home built by Habitat Kent. This is noteworthy since the home is over a century old and was originally built to "breathe" so achieving such air-tightness wasn't easy. This success is even more impressive considering the untrained, inexperienced labor-force of volunteers who rehabbed the home. Simply being located in a historic district also invited numerous challenges including using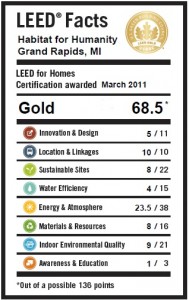 wood windows (which are notoriously inefficient). Despite these challenges, the project team hit a home run with this home. Their recent dedication to be restorative to the Wealthy Heights Community  has lead to several projects that involved painting, remodeling, gut rehabbing, as well as building several new homes and creating community gardens. Habitat is completely revitalizing the area. Their highest achievement here is their commitment to constructing a net zero or near zero (currently) 5 bedroom home. This home features, ICF and SIP panel construction and has a solar hot water heater attached to the house. The homes HERS score tested out to be 35, one of the lowest in Michigan. They are still missing the Solar PV making a perfect promotion opportunity for any company willing to supply solar to this project.  Please contact Chris Hall if you are interested. CJHall@habitatkent.org. Due to Habitat for Humanity of Kent Countie's commitment to LEED certification, they have been able to attract many more sponsors, donors and volunteers. They have also been able to achieve some great accomplishments. Deconstruction of homes literally saves tons of usable materials and items from heading to the landfill. These materials are re-sold at the Habitat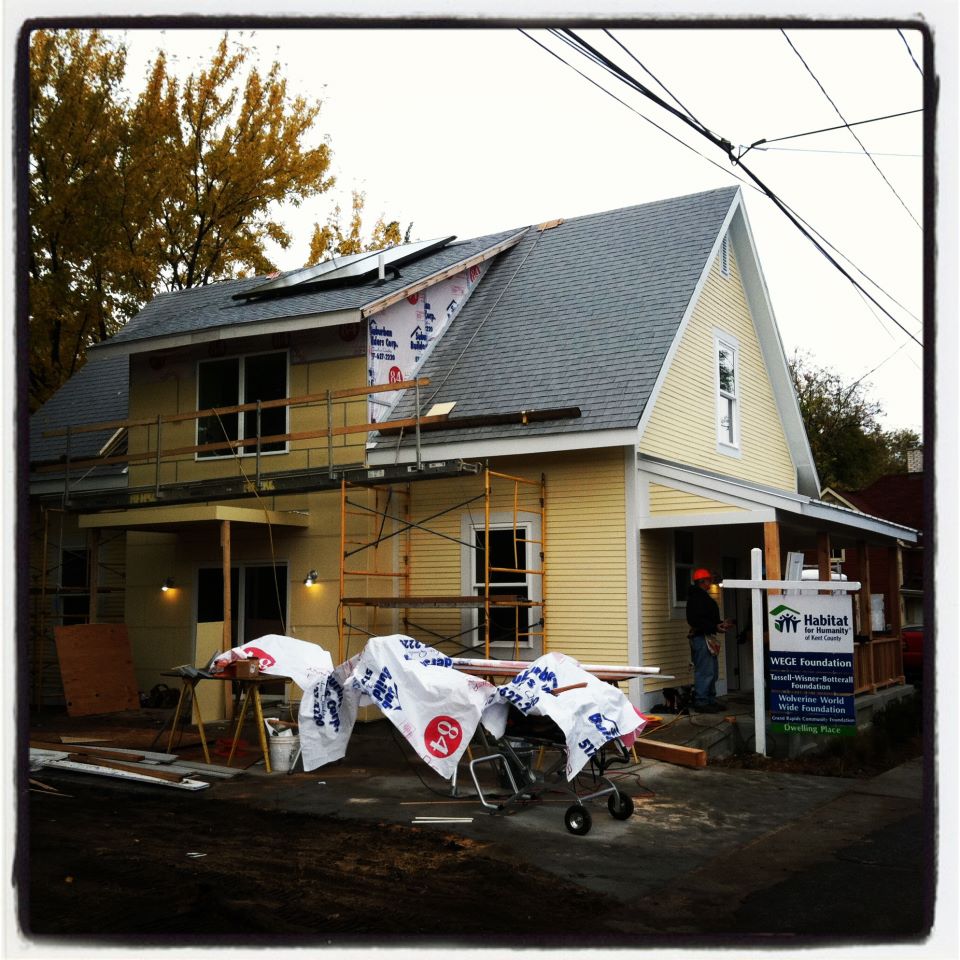 ReStore for a profit to build other homes. Habitat discovered that it costs approximately $8000 more to incorporate green building and zero-step entry into a Habitat home building per house, and that the long-term benefits to the family and the environment easily justify the expense. It is estimated (based on their earliest LEED Homes) that annual savings costs for electric, water, and heating will be at least $1,000 per home per year.  The extra money available every month eases the hard decision "food or heat?" for families who live close to the poverty line. Over the life of each homebuyer's 25 year mortgage, the savings equates to $25,000 at minimum – money a family is able to invest into strengthening their future.Looking to start a LEED for Homes or a Green Building project within your Habitat Affiliate? Please contact today. We work with over 20 other Habitat Affiliates including Detroit, Chicago, Cincinnati and Indianapolis.
https://greenhomeinstitute.org/wp-content/uploads/2011/11/Habitat-for-Humanity-Kent-County-won-the-2011-Green-Build-outstanding-program-commitment-to-LEED-for-Homes1.jpg
640
640
Brett Little
https://greenhomeinstitute.org/wp-content/uploads/2018/08/GHI_Round-300x82.png
Brett Little
2011-11-16 13:13:18
2016-09-02 17:11:50
LEED for Homes OUTSTANDING PROGRAM COMMITMENT Winner.