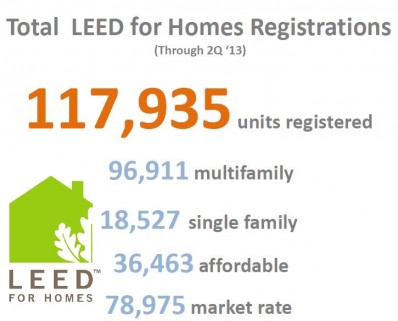 LEED Homes: New Energy Pathway & Program Market Share
"Starting with the LEED NC program, multifamily adoption of LEED really took off when the LEED for Homes and LEED Midrise programs were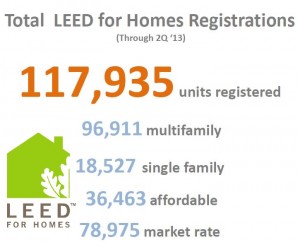 launched in 2008. With only 4,000 units participating as of 2009, the LEED for Homes (and LEED Midrise) programs have grown to include over 117,000 units pursuing certification today. Much of this adoption has been in the multifamily market.  Nearly 90% of the units in the residential LEED programs are from multifamily buildings and as far as market share goes, during 2012 over 10% of all new US multifamily units chose LEED certification. "   Read More – Taken from USGBC.org
Based on the National Association of Home Builders Housing Start Data in the Midwest – LEED for Homes program market share has 2.1% of all new housing starts in 2012 including Multi Family and Single Family and was 1.3% of from Jan – May in 2013 (Included a 10K + Housing start increase). This really shows that those who choose LEED for Homes as their path are the top leaders in their field.
Out of the 40 Providers in the country has remained around the 10th for LEED for Homes Project Registrations & Certifications, with over 2,600 units certified and 6,000 + registered. You might be saying so what? What is the points of registration? Registration under LEED expresses intent. First off, it is not free and likely someone will not be paying to register until they have thought about the basic principals of LEED; Energy / Water  / Location Efficiency, Improved Indoor Air Quality, Durability, Waste Reduction, Materials Choice and Education/Awareness.  Most projects that have registered have engaged design, construction and energy/green rater professionals in order to think differently about their project and design for above code success. Whether they certify or not, we are excited about the upfront work and thought that leads to registration, finding the first step to be noteworthy.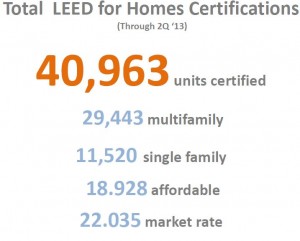 USGBC nationally has now certified just over 40,000 units or a 3rd of all registered projects. Certification means the project team has subjected it self to 3rd party onsite visual verification and performance energy testing with Energy Star for Homes and the Home Energy Rating Score. Certification is not easy and shows the team has taken the steps to ensure their project is more sustainable and the house will be Energy Efficient, Healthy for Occupants, Built to Last and Attainable by Anyone.
Why are we so excited? 
At we celebrate all certified projects by show casing their accomplishments. This happens through helping set up tours to educate the public, documenting post occupancy success based on utility data / indoor air quality studies and overall comfort and homeowner satisfaction. After following up with homeowners and contractors we are showing others how they could accomplish LEED best practices and ideal certification at an affordable manner.
Anything less would be a failure to support our mission, we are not in the business to just certify homes but to use that certification as a success story.
As continues to pursue and celebrate LEED certification success with our community we are excited to see the USGBC continue to push the envelope.
"Continuous improvement ensures that the LEED rating systems stay relevant in a time when policies, technologies and the needs of the industry are constantly changing. In the last three years, residential construction energy codes rapidly have become more stringent, a trend we anticipate will continue. The updates in LEED v4 (the newest version of LEED for Homes) respond to these changes, and now USGBC aims to update the 2008 version of LEED for Homes by beginning an official update process. "
A ballot proposal is out to for "v2008 that will increase the stringency of the energy prerequisite by roughly 15%, approximately equivalent to the energy performance of ENERGY STAR v3, 15% above International Energy Conservation Code (IECC) 2009 and equivalent to IECC 2012. " Before a HERS Score of 85 was acceptable on a LEED certified home but this would push it to require a HERS of 70 now starting on April 1st 2014
" Currently, over 90% of all certified projects are scoring lower than a HERS 70." Learn more here
In order to keep the relevancy of the LEED for Homes program which has given a language to LEED. We celebrate registrations and certification, education and constant improvement is the direction to go.
Also see this report on Michigan
Click to access Green%20Building%20Market%20Brief%20and%20Snapshot_Michigan_0.pdf
https://greenhomeinstitute.org/wp-content/uploads/2013/07/LEED-for-Homes-Registrations-as-of-2013-Q21.jpg
585
725
Brett Little
https://greenhomeinstitute.org/wp-content/uploads/2018/08/GHI_Round-300x82.png
Brett Little
2013-08-08 10:58:48
2016-09-02 17:11:54
LEED Homes: New Energy Pathway & Program Market Share