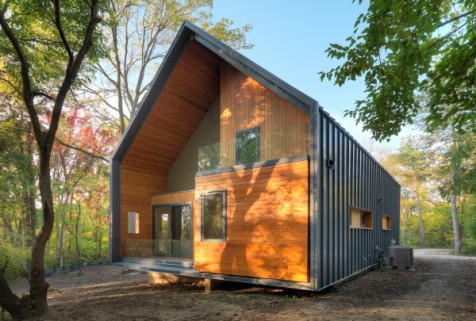 Matchbox House LEED Platinum Certified – Ann Arbor
The project started out with an intent to design LEED certified which is reflected in its unconventional design.  The project was modeled after a matchbox and was designed to have four inner quadrants that slip past on another withing the out sleeve of the house, all on top of
a raised foundation.   The Matchbox's compact design contributed to it's LEED Platinum certification as there was less conditioned area to work on. The architect gathered information from other contractors experienced in green building practices in order to produce a home outside the norm. The result was distinctive, efficient, and compact home surrounded by natural, permeable turf minimizing the impact of the house on the surrounding environment.
The house has four bedrooms, 1,738 sf of conditioned space and a one car garage. It has received LEED Platinum Certification. It has a HERS rating of 47 and many notable features, including FSC wood, reclaimed trim from demolished Michigan barns in the region, no conventional turf (no irrigation) and low flow plumbing fixtures. The house has no attic or basement so upstairs rooms have dramatic ceilings that begin at 3'-0" and end at 16'-0" with an angle ceiling matching that angle of the roof.
No conventional turf or irrigation system was installed around the home, and all fixtures and fittings (toilet, faucets, and showers) are very high efficiency, reducing the site's water demand by 78%. The wood used in the cabinets, stairs, closets, doors, and upstairs floors are all FSC certified. The house itself is much more compact than a standard house, so much that the LEED threshold dropped by 10 points. The kitchen counter tops and decking are constructed are composite from recycled materials.
The home's unconventional design earned it 1st Place in Detroit Home Magazine Design Awards 2013 for Contemporary House under 4,000 sq ft.
Project Details:
Location: Ann Arbor, Michigan
Clients: Azar and Hormoz Alizadeh (the house currently is rented out to tenants, it is not currently occupied by the owners)
Project Type:                 Single Family
Conditioned Space:      1,738 sq ft.
Bedrooms:                      4
Bathroom:                     3
Lot Type:                        Infill
Construction Type:     Custom
HERS Rating of 46, expected savings of 54% with a 5 Star+ Energy Rating
44% of Construction Waste Diverted from Landfill
Key Features:
2 kw Solar Panel on roof, reducing energy costs by 18%
Wall Insulation R-Value of 29
Air Filtration rate, MERV 15
Reduced water demand by 76%
Compact home for minimal site impact
No irrigation system or conventional turf
FSC certified cabinetry, stairs, closets, doors, and upstairs flooring.
Energy Star certified appliances and light fixtures
2 ton heat pump/ERV
Appropriately sized 40,000 Btu furnace
Low flow toilets, faucets and showerheads
Project Team:
Brian Halprin (Green Building Services, Pllc)
Naseem Alizadeh (Bureau for Architecture and Urbanism)
Tad Krear (Landscape architect)
Cory Johnston (Structural engineer)
Matt Snider (Mechanical Engineer)
Photo gallery containing before, after, and during construction pictures:
The Matchbox House: Bureau for Architecture and Urbanism
Feature in Architect Lab's Online Magazine
2216 Hickman (Matchbox House) Project Profile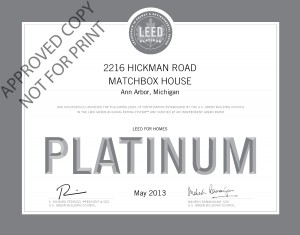 https://greenhomeinstitute.org/wp-content/uploads/2013/06/4_hr15matchbox1.jpg
405
600
Brett Little
https://greenhomeinstitute.org/wp-content/uploads/2018/08/GHI_Round-300x82.png
Brett Little
2013-06-24 07:59:54
2016-09-02 17:10:07
Matchbox House LEED Platinum Certified – Ann Arbor