Members Tom Bassett-Dilley Architect & Habitat for Humanity Kent County featured in USGBC LEED Homes Awards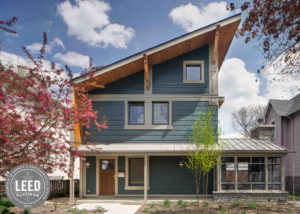 Outstanding Single-Family Project: Right Sized Passive Home, Oak Park, Ill.
Designed by Tom Bassett-Dilley Architect, constructed by Evolutionary Home Builders and verified by Eco Achievers, the Right Sized Passive Home is a LEED Platinum home. Nontoxic, no-added formaldehyde, water-borne finishes and materials were selected carefully for this project helping it become sustainable. This home also has its own energy monitoring system so the owners and designers can track energy use compared to modeled predictions.
View the Right Sized Passive House at Tom's website here.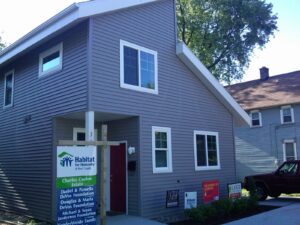 Outstanding Affordable Developer Builder / Developer: Habitat for Humanity, Kent County, Mich.
In 2016 Kent County's Habitat for Humanity chapter built 15 homes earning LEED certification—10 receiving Gold and five Silver. To date, Habitat Kent has built 158 LEED-certified homes. On average, Habitat Kent's LEED certified homes save homeowner's $67.12 per month over an average Michigan home. Habitat Kent also partners with Grand Rapids Public School and Grand Rapids Community College to provide professional green construction experience to the next generation workforce.
View House Constructions at Habitat for Humanity Kent County's website here.
Other LEED Homes Awards Winners
Annual recognition highlights projects, developers and builders leading the residential market in sustainable development
Washington, D.C.—(Sept. 12, 2017)—Today, the U.S. Green Building Council (USGBC) announced the recipients of its annual LEED Homes Awards, which recognizes projects, architects, developers and homebuilders who have demonstrated outstanding leadership and innovation in the residential green building marketplace.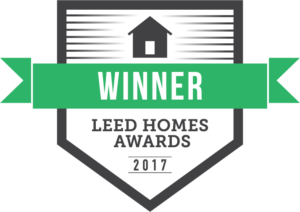 The LEED Homes Award recipients include multi-family, single-family and affordable housing projects and companies that are trailblazers in the residential sector and have prioritized incorporating sustainability within their projects in 2016.
"Homes provide more than just shelter. As demonstrated by the slate of LEED Homes award recipients, LEED homes improve the health and wellbeing of the occupants while saving energy, environmental resources and money," said Mahesh Ramanujam, president and CEO, USGBC. "This year we praise the innovative and integrative LEED Homes' honorees for advancing the residential green building movement."
The awards also recognize the "LEED Homes Power Builders," which USGBC developed to honor an elite group of developers and builders that have exhibited an outstanding commitment to LEED and the green building movement within the residential sector. In order to be considered as a LEED Homes Power Builder, developers and builders must have LEED-certified 90 percent of their homes/unit count built in 2016. Homes at any LEED certification level—certified, Silver, Gold or Platinum—are eligible for consideration.
LEED Homes Award Recipients:
Project of the Year: Hassalo on Eighth, Portland, Ore.
Developed by American Assets Trust and designed by Turner Construction, Hassalo on Eighth is a LEED Platinum mixed-use, dense development that creates a vibrant, 24-hour neighborhood for people to live, work and play. With more than a million square feet of new construction spread across three buildings, this project covers apartments, parking, an outdoor urban plaza and North America's largest bike hub with space for 900 bicycles. Site-specific strategies include: rainwater harvesting and treatment; on-site wastewater treatment and re-use with infiltration; district energy; natural daylighting and access to public transportation.
Outstanding Single Family Developer: (Tie) John Marshall Custom Homes, Davidson, N.C. and Koral and Gobuty Development Co,LLC., Bradenton, Fla.
John Marshall Custom Homes continues to be a leader in sustainable building. Last year the firm developed a "pocket neighborhood" of 15 homes in Davidson, N.C. Currently 12 of these homes have achieved LEED Silver certification while the remaining are waiting for certification and construction completion. The walkability of this community is one of its biggest attractions as it sits within a five-minute walk of the elementary school, park, shops and public library.
Koral and Gobuty Development Co, LLC are the developers of Mirabella, an innovatively designed, eco-conscious neighborhood of 160 paired villas created for active adults 55+. The 42-acre site transformed an abandoned golf course in an established neighborhood and includes the extensive use of green building practices including improved stormwater management to reduce flooding and enhanced retention and treatment of runoff water. Shared recreational amenities reduce the need for commuting and landscaping emphasizes water-conserving plants and low-flow irrigation using reclaimed water. Drought-tolerant trees, shrubs and ground cover provide permeable erosion control.
Outstanding Multi-Family Project: Arete, Kirkland, Wash.
Built by Natural & Built Environments and developed by Sustainable Kirkland, LLC, five buildings make up the Arete community that earned LEED Platinum status last year. This is the first micro apartment project in the city of Kirkland and consists of living, working and art-centered spaces. Energy performance is one of the greatest successes for this community as some buildings surpass 40 percent savings over the LEED baseline. Additional energy features include solar hot water providing 40 percent of annual demand, triple pane windows, blown-in-blanket insulation, advanced air sealing, 100 percent LED lighting, efficient central ventilation, and 96 percent efficient boilers with radiant in floor heat.
Outstanding Multi-Family Developer: AMLI Residential, Dallas, Texas, Austin, Texas, Sunrise, Fla., Chicago, Ill.
Since 2006 all of AMLI Residential's new construction buildings have been built at minimum to LEED Silver standards. In 2016 AMLI's portfolio grew to contain 25 LEED certified projects, which represents more than one third of the developer's properties. AMLI created a habitat for native pollinators and utilized LEED as an opportunity to create regenerative landscaping. AMLI has several other projects currently targeting LEED and wishes to grow their portfolio past 50 percent LEED certified in the coming years.
Outstanding Affordable Project: Prospect Plaza Site One, Brooklyn, N.Y.
Built by Oceanhill LLC and developed by Blue Sea Development Company, Prospect Plaza Site One is the first site to be completed in a three-block project that will provide 394 units of modern, human scaled, affordable housing. Site One is LEED Platinum certified and consists of 110 units of sustainable, energy efficient, healthy housing in four attached townhouse style buildings and a mid-rise elevator building. Prospect Plaza received the first national affordable housing Active Design Verified certification from The Partnership for a Healthier America and is the subject of a Mt. Sinai School of Medicine clinical study on long term health benefits of living in a green building.
LEED Homes Power Builders (*Represents a company that also won a LEED Homes Award):
AMLI Residential*
Blue Sea Development Company, LLC*
Frankel Building Group
Forest City
Gerding Edlen
Habitat for Humanity of Charlotte
Habitat for Humanity of Kent County*
Habitat for Humanity Grand Traverse
Ithaca Neighborhood Housing Services
Jamboree Housing Corporation
John Marshall Custom Homes*
Koral and Gobuty Development Co, LLC*
Metro West Housing Solutions
MHI-Austin
MHI – McGuyer Home Builders- DFW
Msheireb Properties
National Church Residences
Natural & Built Environments, LLC*
ROEM Builders
Sotramont
The Dinerstein Companies
The Hudson Companies
Uptown Rental
Urban Development Partners
LEED (Leadership in Energy and Environmental Design) is the world's most widely used rating system for green buildings. The LEED for Homes rating system was created in 2008 as a way for single-family homes and multi-family buildings to achieve LEED certification. LEED for Homes projects undergo a technically rigorous process to become certified, including multiple on-site inspections and diagnostic tests. Quality control and quality assurance are built into the process so that builders, architects and homeowners can rest assured they get what they paid for and specified. More than 1.2 million residential units are currently participating in LEED. USGBC's 2015 Green Building Economic Impact Study found that the residential green construction market is expected to grow from $55 million in 2015 to $100.4 million in 2018, representing a year-over-year growth of 24.5 percent.
To learn more about LEED for Homes, visit https://greenhomeinstitute.org/leed-for-homes/