A Virtual CEU LEED Platinum Home Tour – River Escape
Part of the passive solar design is to have very few windows on the non-south sides of the home, to keep heat from escaping through them. That is why this homes attention to detail is spent on the Southside of the home, where most of the homes windows face south. The windows in this home are made by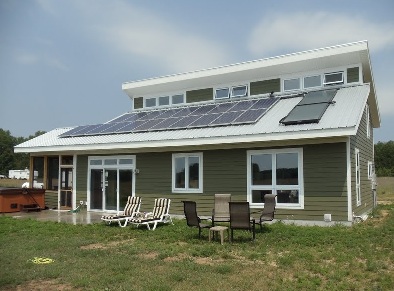 North Star (Canadian made) which uses a transparent low-E film between the panes of glass with a foam spacer to get a triple pane effect without the weight or waste of extra glass. The window U-value is .24 with a much higher Solar Heat Gain Coefficient (SHGC) on the South windows. In the winter, the sun will warm the living space during the day and shine on the concrete floors which will store some of the heat gained, for gradual release. The roof overhang will shade the house from excessive solar heat gain in the summer, and west-facing glass is minimized to reduce cooling needs in the summer. ICF construction was perfect for this project because with ICF's there are no concerns with noise and wind. It is wonderful to quietly contemplate the winter storms swirling through the open fields and feel pleasantly comfortable. The "River Escape" project is a Zero Energy Home (ZEH) thanks to the Passive Solar Design, 4.1 kW of Photovoltaic, Solar Hot Water and a 98% efficient boiler for the radiant floor heat and hot water backup. The home is also pre-wired for future installation of a Wind Generator. This home only uses about 600 kWh of electricity per month and has been generating a minimum of 20 kWh of electricity per day and net-metering backwards every day since the home was completed in June. The home was built for $142.00 per square foot (before the 30% rebates from the Solar Hot Water, and Photovoltaic systems) making it more affordable for the general public. Besides the LEED for Homes "Platinum" certification (this project scored 32.5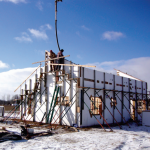 points above "Platinum") this home received 5+ Energy Star certification and a HERs score of 12. This is the lowest score ever tested in the State of  Michigan making it the most energy efficient house in Michigan. This home is 88% more efficient than a conventional code built home. The home is also ZeroStep "Silver" Certified (Lifetime Design or Barrier Free) from Disability Advocates of Kent County Michigan. In addition this homes toilets, faucets and shower heads are super low-flow for superior water efficiency. The home also has low-VOC paints, adhesives and finishes and uses recycled content for the flooring, foundation, exterior walls, trim and siding. Every possible piece of unused material used in construction was recycled.
Presenter: Eric Hughes – Image Design
Lessons Learned 
See basics of design for healthier above code home that is built to last
Understand how to incorporate efficiency and renewable energy features for the welfare of society and the environment.
Get a sense for universal design features that can improve the safety of any type of occupant
Learn where to get started on designing your own LEED certified, passive solar home.
Continuing Education – 1 hour 
State Architect / Builder License.
Certified Green Professional (NARI & NAHB)
AIA(HSW)
Questions? Ask,
Brett Little
Brett.Little@greenhomeinstitute.org
616 458 6733 ext 1