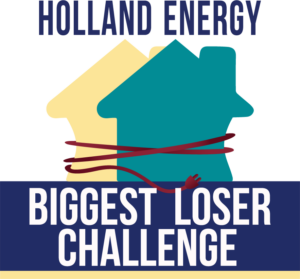 The Holland Energy Prize is a Governor's Energy Award's of Excellence 2017 semi-finalist and is proud to announce our 2nd annual competition. I hope you will join us.
How it works
Locate your electricity and gas account numbers
Enter in a little bit of information about your house.
Schedule your DOE Home Energy Score
Start saving today.
Competing to win prizes by reducing your utility usage is a win – win – win, not just for you and your family but for everyone! Lowering your energy and water use saves you money, gives you a chance to win up to $250.00 in prizes/cash.
How to win?
You win by reducing your total energy usage from Nov 1, 2017, to Mar 31, 2018, compared to that prior years period of usage. The household with the biggest reduction wins!
Sign up now to receive a free Department of Energy (DOE) Home Energy Score – free scores are limited. 
Prizes
1st place Biggest Loser – $250.00
2nd place Biggest Loser – $100.00
3rd place Biggest Loser – $50.00
Most Improved DOE Home Energy Score – $150.00
Sign up to compete below the FAQ and enter in drawing to get a Free DOE Home Energy Score.
Do I have to be a Holland Resident or HBPW customer to compete?
Can I compete again if I did last year?
Yes, though if you won 1st place you cannot win again.
What do I need to do to win?
The sky is the limit on how you can win. We will be hosting some sessions this fall and winter to give you tips and tricks on how to win. All you need to do is save energy this year compared to last year.  Ways to do that include but are not limited to,
Keeping lights off when, not in use
Programmable thermostats or keeping the heat down
Insulating your windows at night with removable foam or cellulose blocks
Unplugging energy using devices such as TVs, microwaves and etc when not in use
Switching to LED and Motion sensor lighting
Sealing your heating ducts
Insulating and air sealing your home
Improving your heat, cooling, ventilation and water heating systems
Reducing the flow rate of your showerhead and faucets
Upgrading to energy star appliances
Adding solar energy to your home
Improving your existing windows or buying new ones
And much more! We hope to learn from you!
What is a DOE Home Energy Score?
Developed by Department of Energy and its national laboratories, the Home Energy Score helps homeowners, buyers, and renters directly comparable and credible information about a home's energy use. Like a miles-per-gallon rating for a car, the Home Energy Score is based on a standard assessment of energy-related assets to easily compare energy use across the housing market.
The Home Energy Score Report estimates home energy use, associated costs, and provides energy solutions to cost-effectively improve the home's efficiency. Each Home Energy Score is shown on a simple one-to-ten scale, where a ten represents the most efficient homes.
Features of the Home Energy Score
An energy efficiency score based on the home's envelope (foundation, roof, walls, insulation, windows) and heating, cooling, and hot water systems
A total energy use estimate, as well as estimates by fuel type assuming standard operating conditions and occupant behavior
Recommendations for cost-effective improvements and associated annual cost savings estimates
A "Score with Improvements" reflecting the home's expected score if cost-effective improvements are implemented
Is required to get you approved for On-Bill financing and/or the Holland Energy rebates through the Holland Energy Fund. 
Can help you win $150.00 if you improve your score by April 2018
Several 100 homes in Holland have this score and over 73,000 across the US. How does your home compare? Learn more here and sign up to compete to get a free score!
https://betterbuildingssolutioncenter.energy.gov/home-energy-score/home-energy-score-about-score
Can I still get a free energy audit if I had one already?
Maybe!
If your score is over a year old it may be outdated and so you may be eligible to get one. We will let you know for sure.
Can I use the past energy score I got as baseline to improve it and win?
Do I have to own my home?
Who won last year? What did they do?
Learn more about last year's 1st annual Holland Energy Biggest Loser Challenge Here.
Click here to add your own text