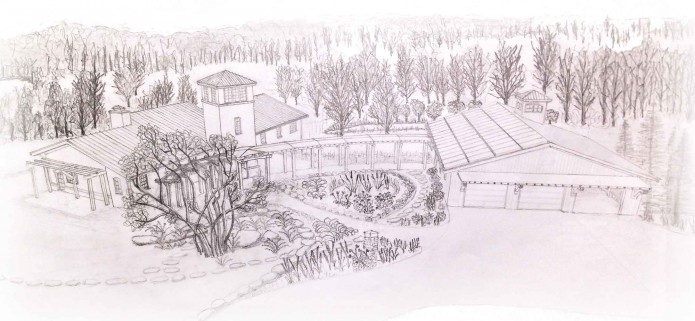 Michigan's First Registered New Living Building & LEED Home – Burh Becc @ Beacon Springs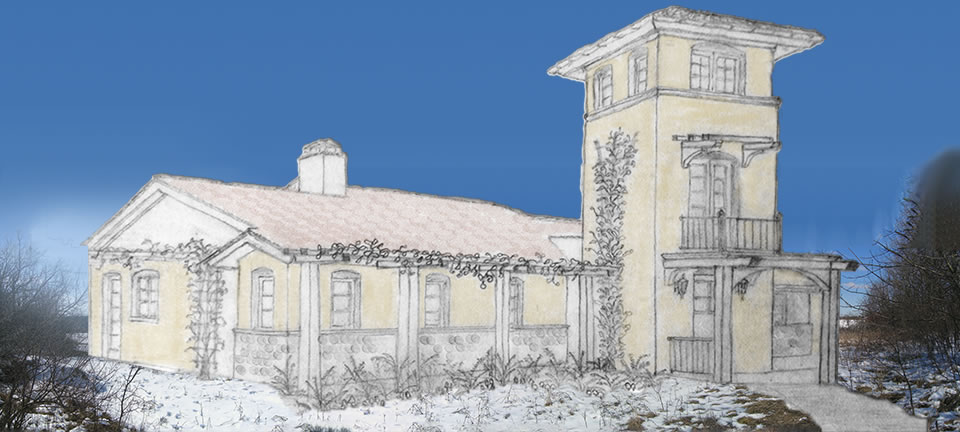 Beacon Springs: The Vision
Beacon Springs (Near Ann Arbor) offers hope for life springing from a sustainable dwelling, polyculture gardens amid oak savannah, and a lively gathering place. It is a beacon of hope for a happy, healthy and sustainable future for all.
Sustainable dwelling
Our house at Beacon Springs is named Burh Becc, meaning, in Old English, a dwelling by a creek. This is the origin of our family name Burbeck. Several natural springs on the north edge of the land feed a small creek which runs past the house. Wildlife is drawn to this source of water and vegetation, as were we when we first came to the site. Burh Becc has been designed as a "living building" using the Living Building Challenge standards of the International Living Future Institute (visit living-future.org). A living building becomes an alive component in a sustainable ecosystem, integrated with the natural environment in a way that nurtures and sustains that environment. It is because of this living nature of our house that we have given it a name, and we have designed and built it to serve many future generations.
Water. Our living building uses the rain and snow falling on the roof as its only source of water.
Energy. Burh Becc depends on the rays of the sun for most of its energy needs. Heat is provided mainly through passive solar design. Natural ventilation is provided by the wind drawn through the house by the tower design. Heating and cooling are augmented as needed by a photovoltaic-powered geothermal system.
Waste. Our house is designed to reduce waste products that need to be removed from the site and eliminate materials toxic to human or environmental health. 95% of the by-products normally considered waste are integrated back into the site ecosystem, or are recycled, repurposed or reused by the broader community. A 95% materials efficiency standard was also followed during the construction phase of Burh Becc, leaving only 5% for the local landfill.
Farm amid oak savannah
The farm at Beacon Springs produces food for the local community, particularly those with limited access to fresh produce, as well as for our own table. As with the house, the farm has become an integral part of the ecosystem. Following the principles of permaculture, plants, trees and animals work together for abundant and sustainable production of food. These permaculture methods also restore the fields depleted through decades of "factory farming," they allow the garden farm to fit together with the rejuvenating oak savannah, and they encourage wise management of water for the benefit of the immediate site and neighboring ecosystems.
Gathering place
Our home has become a wonder-filled gathering place for people (and pets, too). The embrace of Beacon Springs – the living building, with its flourishing courtyard and barnyard animals, combined with the surrounding acres of permaculture gardens and oak savannah – is a balm to the lone poet and a catalyst for lively exchange in larger groups. Beacon Springs is a center of education for the community: architecture students learning about sustainable design; residential building crafts(wo)men and trades professionals learning sustainable construction methods; children learning about barnyard animals and bee-keeping; and permaculture enthusiasts participating in onsite workshops. Beacon Springs also provides a gathering spot for community farming. And we regularly welcome family, friends, co-workers and others to our table for good food and dynamic exchange of life.
A special note for our team of designers, engineers, builders and growers, and the extended team members through the International Living Future Institute: We hope that each of you, in joining the community responsible for the creation of Beacon Springs, has also received an extra measure of life springing from your contribution to the project. You are always welcome to come for a visit, enjoying with us the fruits of your labors.
—Tom and Marti Burbeck, Ann Arbor, Michigan, March 2023
Photos and Info taken from http://www.beaconsprings.org/
https://greenhomeinstitute.org/wp-content/uploads/2013/09/Bur-becc1.jpg
924
2000
Brett Little
https://greenhomeinstitute.org/wp-content/uploads/2018/08/GHI_Round-300x82.png
Brett Little
2013-09-15 18:28:20
2015-05-23 16:58:09
Michigan's First Registered New Living Building & LEED Home – Burh Becc @ Beacon Springs