Andersen Windows is a leader when it comes to sustainability in windows and have recently received the 2016 green builder media reader choice for greenest windows. Not too long ago we recall a time when our former vice president at GHI contacted Andersen Windows to work with him meeting the goals of a LEED Platinum project being designed. They were very willing to work with him and accommodate the ne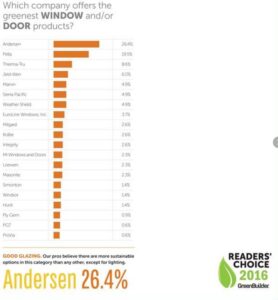 eds of better window design and materials.
Make sure to check out Andersen Windows for all your fenestration needs and learn more about their 100 series that features all fiberglass windows that are affordable, durable and energy efficient.