Valuing Green Homes 101: Bridging the Gap Between Real Estate and Energy Efficiency
There are now over 3 million green certified homes in the marketplace. In 2001 there were nearly zero and since then studies have shown an increase in value of 3 – 5% in homes. This is great but there is still work to do! It's the right time to reach out to the real estate community with the business case for considering the thriving high-performance home market. Successfully engaging that community requires a thorough understanding of how to align the strategic interests of many stakeholders. It is worth the time and the effort and to do this: strong relationships between the energy efficiency and real estate communities have the potential to ultimately transform the single family home market by making sure high-performance homes are fairly and consistently valued at the time of the sale. In this course, attendees will learn why and how to effectively engage with real estate community.
This course is for those in the energy efficiency community that wants to understand how the real estate community works, and how to build a business case that will engage their agents. No prerequisite knowledge is needed.
List the range of market conditions that make it possible to successfully engage the real estate community on safer homes.
Understand what motivates the real estate community and how to tie those motivations to learning about high-performance homes for the welfare of all.
Articulate studies that demonstrate the value and health benefits of third-party verified homes in the real estate market.
Understand the basic structure and components of the real estate community and the threats and opportunities they face.
Continuing Education Units (CEUS)
1 Hour in
State Architect / Builder License.
GBCI
Certified Green Professional (NARI & NAHB)
AIA(HSW)
AIBD
Certified GreenHome Professional (CGHP)
May be applicable to your state-based design or contractor licence*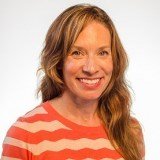 Pamela Brookstein is the Market Transformation Specialist for Elevate Energy, working to make the value of high-performance homes visible in real estate transactions. She coordinates the Learning Network, a national group of efficiency experts who are making groundbreaking accomplishments in the realm of visible value. She works closely with the local real estate community to increase usage and understanding of "green MLS." Ms. Brookstein has spent much of her career building relationships with municipal leaders, community organizations, and local residents to improve the public health in Chicagoland.
Course Certificate Cost: $50.00
GHI Members: Free
Download course handout here
GreenHome Institute
625 Kenmoor Ave SE Ste 350
PMB 20674
Grand Rapids, Michigan 49546-2395 US
Tel: (616) 458-6733
Toll Free: (888) 533-3274
Email: info@greenhomeinstitute.org
About Us
The GreenHome Institute, formerly The Alliance for Environmental Sustainability (AES) is a 501(c)3 non-profit with a mission to empower people to make healthier and more sustainable choices in the renovation and construction of the places we live.