Do you have what it takes?
Getting to zero takes might, takes diligence and above all, it takes a hero!

The challenge is lofty, but the rules are simple.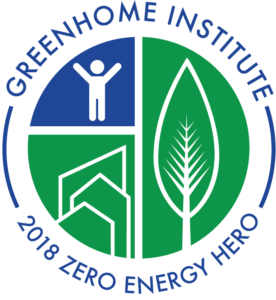 A family or building owner who can achieve zero energy usage on their utility bills from on-site renewable energy usage can win a yearly award.
It's that simple!
Contact us to apply today – rules are below.
If you are starting a project now, make sure to follow our Zero Energy Capable program so that you can easily achieve this award with little effort.
Awards winners + FAQ Below
What all do I need to submit?
Property address
Photos
How to achieved this feat
12 months of utility bills
Amount of material burned if wood, coal or other fuel was used.
Does this award ensure my project is certified?
How do I know if I am zero energy?
You will take all your utility data from 12 months of bills
Natural Gas
Electricity
Propane
(Biofuel, wood and/or coal must all be calculated as well).
Convert the fuel usage to Kilowatt Hours
Subtract fuel usage from Kilowatt Hours generated on site.
What counts as on site energy generation?
Solar PV
Wind Turbines
Small Hydro
Sustainably harvested wood *
Biofuel that is grown and processed at a local farm
Solar Hot Water**
*Still determining definition but we will know it when we see it.
** Solar Hot water cannot offset electricity usage only heating water.
What about Zero Water Hero?
Yes!
You must produce as much water as you consume through rainwater catchment and/or groundwater.
The groundwater must be replaced at the same rate it is taken out and not in a way that reduces the quality.
GreenHome Institute
GreenHome Institute
ATTN José Reyna
1451 Lake Drive SE, #6484
Grand Rapids, MI 49516
Tel: (616) 458-6733
Email: info@greenhomeinstitute.org
About Us
The GreenHome Institute, formerly The Alliance for Environmental Sustainability (AES) is a 501(c)3 non-profit with a mission to empower people to make healthier and more sustainable choices in the renovation and construction of the places we live.