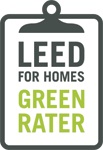 There are currently nearly 200,000 registered LEED® for Homes™ projects worldwide and over 50,000 certified with each project requires third-party on-site verification and performance testing by a LEED Green Rater. If you're interested in filling this need as part of USGBC's LEED for Homes Green Rater program, this training is for you!
Before registering all applicants must meet/submit initial qualifications to be accepted. GreenHome Institute can help you complete section 4 of the qualifications by either accessing our online webinar version of HOMES 252 or attending the 1 day pre course on November 4th.
During this training we will also be offering the ability to complete 2 final verification mentorship walkthroughs as well as offering follow up to completing 2 submittal packages. Learn more about mentorship here. 
In the months following the training, participants will get access to training materials and take a computer-based exam provided by the Green Building Certification Institute (GBCI) at a local testing center.
UPDATE: This event only has 2 seats left.
Learning Objectives
Identify responsibilities of a LEED for Homes Green Rater in each phase of a project
Manage and conduct verification activities
Effectively use the project checklist file
Communicate effectively with project teams and LEED for Homes Providers
Apply the sampling protocol on applicable projects
Prepare accurate and complete certification submittal packages
Speak to major changes when V4 for Homes is launched
Audience
This training is intended for professionals with a minimum of three years' experience in the residential construction industry and basic residential green building knowledge who are interested in providing verification services on  LEED for Homes projects. Those with a background in on-site verification and/or energy rating are particularly qualified.
Prerequisites – Submit LEED for Homes Green Rater Eligibility Qualifications.
Continuing Education CEUs
This course, like all USGBC LEED education programs, meets GBCI eligibility requirements for the LEED Green Associate.
RESNET: 14 hours
BPI: 8.5 CEUs
GBCI CE: 14 hours (LEED Homes Specific)
AIA/CES: 14 HSW/SD Learning Units
BOMI: 14 (CPD)
CoreNet: 14 (CPD)
CSI: 1.6 (CEU)
NARI Green: 14 hours
AIBD 14 Hours
Bonus Mentorship + Project Tour Details
By attending this course, you can knock out all your mentorship requirements both in person and during a follow up with us online.
11/6 – After class Join Evolutionary Builders, Brandon Weiss who is building a LEED Platinum, Passive House and Living Building Challenge home. Dubbed the Uber Haus, this will be ready for predrywall inspection with your instructor.
11/7 – You are invited to join a walk through of a downtown market rate LEED multifamily development and complete your in-person final inspection.
Once you pass your Exam, the GreenHome Institute will work with you to complete 2 more inspections over the phone and your 2 preliminary plans reviews and 2 submittals over the web. GHI raters are available to serve as the rater of record on a local project of yours as well. Let us know what you need.
Instructor
Jason La Fleur, Principal at Eco Achievers – LEED AP+Homes, BD+C, PHIUS Rater, HERS and LEED Green Rater
Jason LaFleur is a long time champion, advocate and educator for better residential building in the Chicagoland area and beyond. Jason formerly from the appraisal institute trainings home construction and valuation professionals on how and why green buildings are important. Jason's company provides consulting, plan review, energy & LEED inspections/test and overall marketing for project teams. Jason currently is the chair of the USGBC-IL residential committee.