Top 10 Neighborhood in Nation just got greener with new LEED Home
The home at 1135 North Grove has earned LEED Platinum certification by the U.S. Green Building Council (USGBC) for achievement in green homebuilding and design. It will be the first residence in Oak Park to receive LEED certification, and this new custom home was built for less than $150 per square foot.
1135 North Grove is one of 40 homes in Chicagoland that have been certified using LEED (view the LEED Project Profile).  The single-family home was built by Wicklow Development Group, renowned for their expertise in green building and historic preservation. Through their commitment to green homebuilding, Wicklow Development Group is helping to keep homeownership affordable. Green homes have substantially lower utility bills[1] and may qualify for advantageous financing, lower insurance rates and government incentives.
"As a LEED Platinum home, 1135 North Grove is at the national forefront of green homes, and serves as a model of healthy and efficient living for the entire community," said Jason La Fleur, Regional Director for the Green Home Institute, who also served as the third-party verifier for the project. "Their example can help us all to live better by reducing our environmental footprint, cutting the costs of our utility bills, and coming home to a healthier place to live." La Fleur is hosting a free webinar on May 9 for real estate professionals interested in learning more about LEED homes.
Solar panels on the roof of 1135 Grove
1135 North Grove reduces energy use 66% below the typical new home built to code.  The four bedroom project features low-e argon windows, high efficiency lighting fixtures, detailed attention to preventing air leakage, and blown-in fiberglass insulation.  Other energy efficiency upgrades include a geothermal heating system which also provides most hot water heat, and a rarely-used backup electric water heater. An ultra-efficient electric induction cooktop is used in the kitchen. The roof angle was optimized for solar panels which produce electricity to power the home, without visually disturbing the home's facade.
Located in one of the "Top 10 Neighborhoods in the Nation" according to the American Planning Association, the home features a very walk-friendly location in the heart of a neighborhood with many historic homes designed by notable architects.
Homeowner Tim Carey says, "Fitting a new construction home into a historic neighborhood creates a challenge for designers and builders. This project demonstrates that you can build a beautiful, traditional looking home, with a green design and features, yet keep with the character of an established community such as Oak Park."
As a result of incorporating energy saving products and technologies, 1135 North Grove has achieved an impressively low 34 Home Energy Rating System (HERS) score. Additionally, the combination of electric using-and-producing systems at 1135 North Grove has resulted in affordable energy bills for the homeowners who have been living in the home for a full year. The house has had modestly low electricity bills, and as an all-electric home no natural gas is used, so there are no natural gas bills.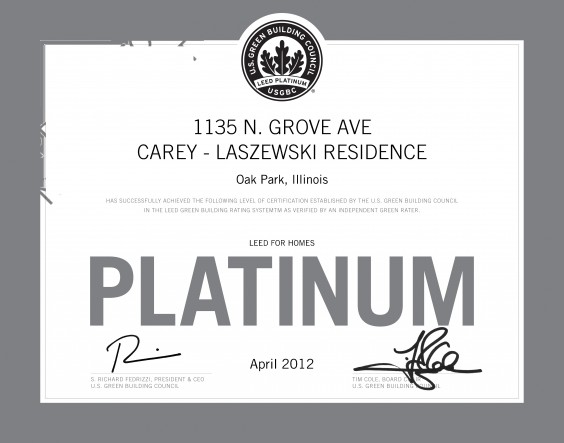 A heat recovery ventilator provides fresh air distributed throughout the home to keep it healthy for the homeowners and recovering some of the energy used to condition the air. Low VOC (volatile organic compounds) paint and locally sourced materials have been used throughout the house.  Proving building green can be done affordably, 1135 North Grove was built with a total construction cost of $145 per square foot after renewable energy incentives, below the Chicagoland average construction cost for custom new homes.
Learn more and see construction photos at the project web site for 1135 North Grove, or view theLEED Project Profile for the home.
About Wicklow Development Group
The Wicklow Development Group LLC are landmark building and restoration professionals, and have been a Chicagoland builder for over 25 years with a passion for historic preservation and green building expertise.   For more information, contact Paul Wicklow 708-351-9683, or visitwww.wicklowdevelopmentgroup.com/greenhome.
0
0
Brett Little
https://greenhomeinstitute.org/wp-content/uploads/2018/08/GHI_Round-300x82.png
Brett Little
2012-05-07 21:59:36
2016-09-15 16:46:17
Top 10 Neighborhood in Nation just got greener with new LEED Home