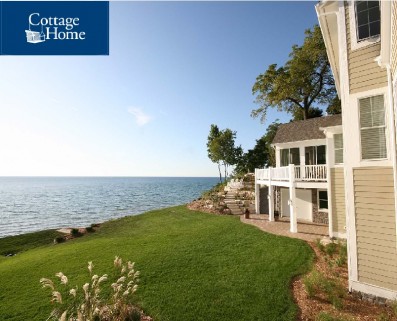 Using his home building expertise, Brian Bosgraaf started Cottage Home in 2000 specializing in building custom homes along Lake Michigan. Cottage Home has designed and built more than 70 custom homes along the West Michigan shoreline, including 13 LEED certified homes. In an interview with Brian, he expressed his passion for LEED certification and sustainable construction practices.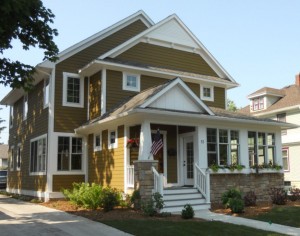 When Brian and Jeremy vanEyk (Vice President) were asked about their commitment to building LEED, they responded that Cottage Home is committed to utilizing healthy, affordable, efficient, and durable construction practices that are already above code, energy star and even LEED at times. Brian says he considers LEED only one of the many tools in his toolbox. Other such tools include creative design, customer service, careful selection of materials, and creating a sense of place. In order to make it simple for the customer, Cottage Home uses a fixed price prior to starting construction which already includes LEED qualifications. This allows some of the cost of LEED certification to be absorbed by both the customer and through the Cottage Homes marketing budget.  Brian believes this method works due to his design and construction teams working together throughout the construction process, which creates a feedback loop that fosters constant improvement.  Including LEED certification into the final cost helps facilitate more sales than presenting each option with separate pricing.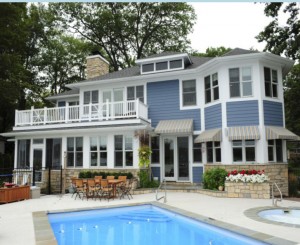 Since many homeowners today are educated and concerned about sustainability and environmental issues,  many take time to study the details of LEED on the website of Cottage Home and take comfort in knowing LEED is a third party certification. Clients are aware of LEED's achievements and credibility, and often wonder about how changes to the house affect the LEED certification level. Much of Cottage Home's customer base is from the Chicago area where LEED is prevalent in their office buildings, and a result, many clients have experienced the advantages offered by LEED construction firsthand. These clients have often already invested in commercial LEED projects and are now ready to transition these same high standards to their personal lives. Jeremy decided to experience the benefits of LEED firsthand and chose to have his own house in Zeeland, certified LEED Platinum.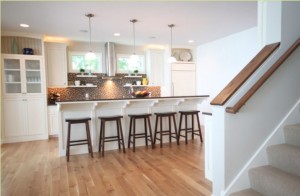 Building on the lake front comes with complications such as extreme wind loads, humid changes, temperature fluctuation, and other variables. To overcome these challenges, Cottage Home uses high performance home measures to control the entire process though design, build, and some maintenance which allows more control of green features. Cottage Home designs and builds what is right for each particular home which may result in homes varying in different HVAC, insulation, passive solar heating, and various climate control systems.  One particular feature that is commonly used in these homes, including Jeremys, is an ERV (Energy Recovery Ventilator).   An ERV automatically exhausts stale air from the inside of the house and replaces it with fresh air from the outside.  Another key feature used in many of the homes is a geothermal system.  There are a few different types used, but all contribute to the energy efficiency of the homes in some way.  Several techniques are used to increase water efficiency in the homes, such as tankless water heaters, which only heat water when necessary, water collection systems to help with sprinking and irrigation, and faucets and showerheads that work with less water than traditional ones.  Insulation, as well as materials such as flooring, home furnishings and walls are all aspects that need to be carefully considered when building these homes.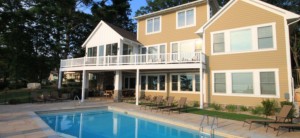 As leaders in the industry we asked Brian and Jeremy what they saw in the future of design and construction. Jeremy believes that being able to evaluate the effectiveness of high performance systems and insulation through energy bills is important. Along with water collection systems to reduce storm water runoff and help irrigate the lawn.  Brian agrees that we should have a system to allow clients to ensure they are getting the most effective homes. He foresees homes that can be manipulated to meet the client's needs at any given time. An example of this would be homes with the ability to accommodate a family of four, which can then transition to accommodate sleeping arrangements for twenty. Along with being able to better meet a client's needs, he would like to see energy loads distributed to only sections of the house in use, as well as the ability for clients to control how energy is used throughout the home (on site and from satellite locations).  Cottage Home sees one challenge to moving forward with these ideas is getting sub-contractors to approach basic air sealing, insulation, proper HVAC sizing, and design aesthetics with an effective mindset. Cottage Home has established themselves as innovators and leaders in the design of luxury LEED lake front homes. They continue to partner quality, design and the environment hand in hand to produce sustainability along our beaches.
Quick Numbers – Average HERS Score 51 Average LEED score 75 
Learn & see more about their LEED projects below.
https://greenhomeinstitute.org/wp-content/uploads/2012/09/Cottage-Home-LEED-for-Homes-Lakefront-1.jpg
650
804
Brett Little
https://greenhomeinstitute.org/wp-content/uploads/2018/08/GHI_Round-300x82.png
Brett Little
2012-09-06 09:02:05
2015-05-07 15:23:10
Cottage Home Sets New Standard for Sustainable Lakefront Living