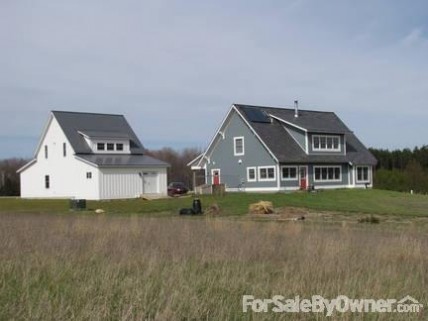 This home designed by the architect Eric Hughes, Image Design is located east of Kingsley Michigan approximately 20 minutes from central Traverse City. Built in 2009 this home was the Renewable Energy Tour Home for the 2009 Michigan Energy Fair and was awarded the 2009/10 Insulating Concrete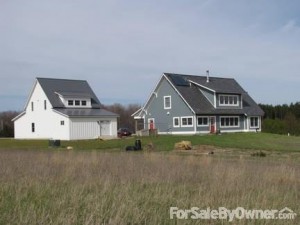 Form Association National Gold Award for Small Residential Construction. This home is located on a quiet dirt road with easy access to M113, Traverse City, and Cadillac. State forest and public lands are within easy walking distance. Countryside views abound and it doesn't get much quieter. In addition to a LEED Gold rating the home received a 5+ Energy Star certification and a HERS score of 48. The links below provide detailed information on the energy saving features of the home. This is not a short sale.
Primary Features:
* 3 bedrooms including master suite on main floor.
* 2.5 baths * Main floor laundry (washer and dryer included).
* 2010 and 2011 total utility bills averaged $1048 annually or $87.38/month.
* Buildblock insulated concrete form walls.
* Anderson 400 windows.
* Soytherm spray foam insulation.
* Toto dual flush ADA compliant toilets.
* Cement fiberboard siding.
* Premium Kasselwood metal roof shingles.
* No mechanical HVAC, a Tulikivi masonry stove provides soothing radiant heat with backup electric baseboards. (www.tulikivi.com, model TTU2700 with bake oven)
* The entire house has been heated by roughly 7-10 face cords of hardwood firewood per winter. Wood was cut from the property (ash and sugar maple), purchased commercially this would be roughly $425.
* One fire a day is sufficient for 95% of the heating season. No constant stoking required.
* Energy star ceiling fans provide all the "AC" you ever need.
* Window overhangs allow in winter sun but block summer sun.
* Maple, tile, and polished concrete flooring throughout.
* Solar hot water system with 85 gallon insulated Marathon electric water heater.
* No-VOC paints, floor treatments, and caulks.
* Energy Star refrigerator (included) and washer.
* Soapstone countertops.
* 80% efficiency whole house Heat Recovery Ventilator (filters included).
* Pre-wired for future wind turbine installation. Fantastic wind generator site with no obstructions.
* External plug and wiring ready for a full size home generator.
* Home architectural plans available upon request.
Garage:
* Built summer 2011.
* Detached 3 stall garage with a 12′ x 12′ basement and adjacent 12′ x 12′ stone floored ventilated root cellar.
* 24′ x 24′ loft over the middle two stalls designed to be finished for guest quarters or home office.
* North stall could be used for storage, tractor, or third vehicle. South stall could easily be finished as a workshop.
* Cement fiberboard siding and standing seam metal roof.
* Large double doors facing the garden for easy entry/exit with garden equipment.
* Plans available for enclosed walkway between garage and house mudroom.
Additional Features:
* Organic garden, fruit trees, nut trees, raspberries, and asparagus planted
* Built in entertainment center and kitchen seating/storage
* Programmable in floor radiant electric heat in all bathrooms
* Automatic dog door
* Fantastic birding site with nesting eastern meadowlarks, bobolinks, upland sandpipers, northern harriers, American woodcock, and others commonly seen from the back windows.
* Additional acreage available includes 25 acres of northern hardwoods managed for sustainable timber production and wildlife habitat. 7 acres of native warm season grasses were planted in 2011. Deer and turkeys are harvested every year from this property. Owner is a wildlife habitat biologist.
* Great neighbors and countryside views.
More information and pictures of the home can be found at the following links. All pictures were taken prior to additional improvements and construction of the detached garage and root cellar. Cut and paste links into your browser.
LEED Certification score sheet and description
https://greenhomeinstitute.org/wp-content/uploads/2011/03/first-LEED-certified-home-in-Grand-Traverse-County.pdf
Northern Express article on the home.
http://www.northernexpress.com/michigan/article-4582-leeding-the-way_green-homes.html
2009 Michigan Energy Fair Renewable Energy Home Tour:
http://www.glrea.org/events/MichiganEnergyFair2009/RE.html
See Listing http://www.forsalebyowner.com/listing/PER61
https://greenhomeinstitute.org/wp-content/uploads/2012/05/LEED-for-Home-for-Sale-Michigan1.jpg
324
432
Brett Little
https://greenhomeinstitute.org/wp-content/uploads/2018/08/GHI_Round-300x82.png
Brett Little
2012-05-21 08:59:43
2016-09-02 17:11:51
Michigan LEED Gold Home for Sale featuring $87.38/month utility bills.